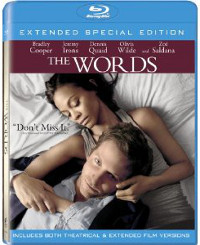 Christmas week is traditionally a small week for home video releases. Which is fine for me, as (like most of you) I'm off celebrating the holidays with family and friends. So rather than break up the few titles up as usual, I'll present the entire week (plus a couple of stragglers that arrived late in the year) in a single post. Merry Disc-mas.
New Releases:
"The Words" (Sony) weaves stories within stories. Bradley Cooper plays an aspiring author and Zoë Saldana his supportive wife, but are they real or simply characters in a novel by Dennis Quaid, and what is the connection between fiction and reality in the story contained in the novel within the novel, and the old man (Jeremy Irons) who claims the story as his own life?
"In theory, this sort of ambition is entirely laudable," ponders MSN film critic Glenn Kenny. "The problem is with the three nested stories themselves, which, when you come right down to it, are treacly variations on what a not-too-inventive Nicholas Sparks enthusiast might imagine to be Hemingway-esque." Brian Klugman and Lee Sternhal write and direct, and Olivia Wilde co-stars.
DVD and Blu-ray, with two featurettes and an "Extended Special Edition" of the film with six minutes of additional footage. The Blu-ray also features two "In-Depth Character Profiles." Also available On Demand and at Redbox.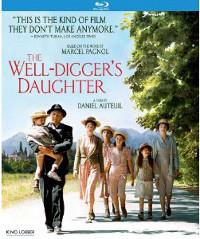 Daniel Auteuil directs and stars in "The Well-Digger's Daughter" (Kino Lorber), an adaptation of Marcel Pagnol's novel about a widowed father raising six girls in rural France in the years between the World Wars. It's a fitting directorial debut for Auteuil, who became a star after acting in the two-part Pagnol adaptation "Jean de Florette" and "Manon of the Spring," and he seems to connect with Pagnol's sensibility here. "To call "The Well Digger's Daughter" an old-fashioned film is to pay it a compliment," praises Chicago Sun-Times film critic Roger Ebert. "Here is a love story embedded in traditional values."
In French with English subtitles. Blu-ray and DVD, with a stills gallery.
"Backwards" (Phase 4) stars Sarah Megan Thomas as a would-be Olympic rower who becomes a high-school after failing to make the team, and James Van Der Beek is the old flame she reconnects with along the way. "Van der Beek knows how to act for the camera," observes Philadelphia Inquirer film critic Carrie Rickey. "Thomas, a stage actress, is sympathetic but unemphatic. In their scenes together, he emerges and she blurs." DVD only, with a featurette.
"Apart" (SystemX Media) is a romantic thriller about two lovers (Olesya Rulin and Josh Danziger) linked by a rare psychological disorder, "madness of two," inspired by actual case histories, or so writer / director Aaron Rottinghaus tells us. Blu-ray+DVD combo, which features commentary, deleted scenes, and behind the scenes footage, is available directly from the film's website and Facebook page. Reviews here.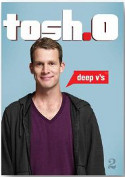 TV on Disc:
"Tosh.0: Deep V's" (Paramount), volume two of the Comedy Central series hosted by comedian Daniel Tosh, presents 16 episodes of Tosh presenting awkward, embarrassing, and unusual video posted on the web for all to see. Tosh sorts through it so you don't have to, and offers commentary (appropriate and not) for every clip. Features extended interviews, an extended skit, and the uncut 24-minute "Human Centipede" spoiler. On Blu-ray (two discs) and DVD (three discs).
"Tosh.0: Cardigans plus Casual Jackets" (Paramount) collects 15 episodes plus supplements on three discs, on DVD only. This volume is available only at Walmart.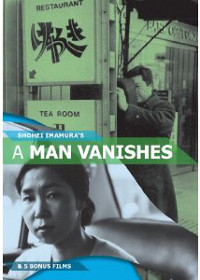 Cool and Classic:
"A Man Vanishes" (Icarus) is actually just one of six documentaries directed by Japanese master Shohei Imamura between 1967 and 1975 in this four-disc set. Previously unreleased in this country, the films were acquired by Icarus and screened in special programs in the U.S. this year, and now debut on DVD. Two-time Palm D'or winner Imamura is known for his fiction films. This set introduces Americans to this vital period of his filmmaking with six films focused on exiles and citizens alienated from society.
"A Man Vanishes" (1967) merges documentary and fiction in a profile of an ordinary salaryman who has gone missing, Following up this case, arbitrarily plucked from police files, Imamura teams up with the man's abandoned fiancée to uncover what motivated him to disappear. "If "A Man Vanishes" — a movie about a disappearance and the transformation of reality into an ever more mercurial mystery, a vertiginous drama and the very stuff of cinema — played at the Cannes Film Festival this year, it would have been hailed as a thrilling discovery," exclaims New York Times film critic Manohla Dargis. "Seemingly banal in its conceit, wildly startling in its execution, it tracks a film crew that, like a detective squad, investigates what became of an ordinary man."
The "bonus documentaries" in the set focus on disappearances of another kind: exile and estrangement from home and society. "In Search of the Unreturned Soldiers in Malaysia" and "In Search of the Unreturned Soldiers in Thailand," both 1971, are investigations of Japanese soldiers who deserted the army in World War II and remained in Southeast Asia, "Outlaw-Matsu Comes Home" (1973) is a portrait of a returning soldier, and "The Pirates of Bubuan" (1972) is a study of rival factions of pirates in the Philippines. The feature-length "Karayuki-San, the Making of a Prostitute" (1975), called "the most brilliant and feeling of Imamura's fine documentaries" by Joan Mellen, profiles another exile: Kikuyo Zendo, a Japanese woman kidnapped and forced into sexual slavery to service Japanese soldiers in Southeast Asia, who refused to return to Japan and tells her experiences frankly to Imamura and his camera.
Japanese with English subtitles. Includes a 12-page booklet with an essay and notes on the filmmaker and the films.
"Trailer War" (Drafthouse Films) collects almost two hours of strangest, wildest, and most extreme trailers from the Drafthouse vaults. Blu-ray+DVD combo pack also features commentary by Alamo Drafthouse programmers Lars Nilsen and Zack Carlson, and interview with filmmaker and genre hound Joe Dante, and a featurette on the American Genre Film Archive. Available directly from the Drafthouse Films website.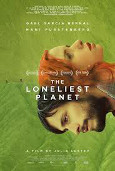 New on Netflix Instant:
2012 indie drama "The Loneliest Planet" is slated for a February disc release, but you can see it now on Netflix Streaming. Hani Furstenberg and Gael Garcia Bernal star as a couple backpacking through the back country of Georgia in Eastern Europe, always making an effort to take the road less traveled. This road in this meandering, low-key film leads to an unexpected confrontation, and a startling reaction, that changes things irrevocably between them. Don't fret if you don't get any subtitles. We are as much in the dark as to what the locals are saying between themselves as our traveling couple. Reviews here.
"Sleepwalk With Me" (2012), an indie comedy written by and starring Mike Birbiglia, arrives just after its disc release last week. More here.
Indie horror "Stakeland" (2011), an unconventional take on the vampire film, reimagines the survival drama by way of a zombie thriller. Director Jim Mickle keeps the film focused on the people and the relationships, bringing a scruffy immediacy to the direction, a grace to the imagery, and a commitment to the performances. Videodrone's review is here.
"Batman: Year One" (2011), based on the Frank Miller-scripted graphic novel about the early years of Batman and Jim Gordon (before he was Commissioner) in the cesspool of a corrupt Gotham City, is to date the best of the DC Universe Original Animated features. Reviewed on Videodrone here.
For something a little gentler, there is "All-Star Superman" (2011), adapted from mini-series by writer Grant Morrison and artist Frank Quitely. It embraces the pulp fun of golden age Superman with a modern grace and a mythic dimension. Reviewed on Videodrone here.
And don't forget the titles expiring at the end of the year. Time to clear through that queue!
New On Demand:
"The Words" with Bradley Cooper and Zoë Saldana arrives same day as disc.
Premiering on Thursday, December 27, in advance of theatrical release, is Don Coscarelli's high-concept thriller "John Dies at the End" with Chase Williamson and Paul Giamatti.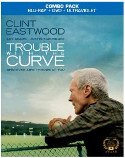 Available from Redbox this week:
"The Words" (Sony) arrives on Blu-ray and DVD same day as stores.
From last week's New Release Rack comes "Trouble With the Curve" (Warner) with Clint Eastwood and Amy Adams, "Liberal Arts" (MPI) with Josh Radnor and Elizabeth Olsen, and "10 Years" (Anchor Bay) with Channing Tatum and Rosario Dawson. All reviewed on Videodrone here.
Also arriving in Redbox kiosks this week is the 2012 superhero blockbuster "The Dark Knight Returns" (Warner), the climax of Christopher Nolan's ambitious trilogy (on Blu-ray and DVD), and the animated feature "Paranorman" (Universal), on Blu-ray and DVD.
Flashback release of the week, the 2009 Sandra Bullock comedy "All About Steve" (Fox), is a major misfire, but it's getting a second life in the kiosks thanks to the appearance by co-star Bradley Cooper.