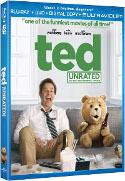 New Releases:
"Ted" (Universal), the first film from TV creator Seth MacFarlane, puts a cheeky twist on an innocent fantasy of a lonely boy, a cute teddy bear, and a Christmas wish. 25 years later, the tale of a thirty-something slacker (Mark Wahlberg), his talking bear (voiced by MacFarlane), and his frustrated girlfriend (Mila Kunis) becomes a goofy mix of romantic comedy, man-boy slacker tale, and foul-mouthed farce. Blu-ray, DVD, and On Demand. Videodrone's review is here.
"The Bourne Legacy" (Universal), the fourth in the action movie franchise, hands off leading man duties to Jeremy Renner as Aaron Cross, another agent in the experimental program targeted for termination. It's kind of a sequel, a spin-off, and a side-story all in one. Director Tony Gilroy sets this thriller in the margins of the third "Bourne" film, a clever idea undercut by an underwritten character and confusing action editing. Rachel Weisz and Edward Norton co-star. Blu-ray, DVD, and On Demand. Reviewed on Videodrone here.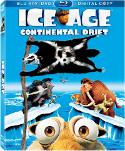 "Ice Age: Continental Drift" (Fox), the fourth film in the animated series of prehistoric buddies at the dawn of man, sends Manny the mammoth, Diego the saber-toothed tiger, and Sid the Sloth to the high seas aboard a glacier, where they meet a menagerie of pirates. Blu-ray and DVD.
Also new this week: "Why Stop Now" (IFC, Blu-ray and DVD), a rehab road trip comedy starring Jesse Eisenberg, Melissa Leo, and Tracy Morgan; "Trade of Innocents" (Monterey, DVD), a drama about child trafficking starring Dermot Mulroney and Mira Sorvino; and the Korean horror anthology "Doomsday Book" (Well Go, Blu-ray and DVD) from directors Kim Jee-woon ("I Saw the Devil" and "The Good, the Bad, the Weird") and Yim Pil-sing ("Hansel and Gretel").
Browse the complete New Release Rack here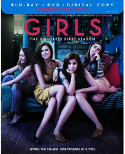 TV on Disc:
"Girls: The Complete First Season" (HBO), created by and starring Lena Dunham, is a very different look at sex and the single girl in New York City, a comedy about four young women from privileged backgrounds facing the disappointments of real life with a frank, uncomfortable humor. "Girls" arrived along with a number of shows that focus on women characters, but this isn't much like its sister shows. The sex is awkward, romance is uncomfortable rather than cute, and there's a lot of settling for what they have rather than insisting on what they want. 10 episodes on Blu-ray and DVD editions. Videodrone's review is here.
"Ultra Seven: The Complete Series" (Shout! Factory), the third in the Japanese "Ultra" series of alien superhero shows, is still considered the best of the series by fans. The late-sixties show draws from the Japanese culture of giant monster mash movies and surreal sci-fi films and has a blast with them. It's kitsch, sure, but it's lively, colorful, bizarre kitsch. Japanese with English subtitles, 49 episodes on six discs, DVD only. Reviewed on Videodrone here.
"Chiller: The Complete Television Series" (Synapse) is five-episode anthology series originally made for British TV in 1995, featuring episodes written by Anthony Horowitz ("Foyle's War). Two discs, DVD only.
Just in time for the holidays are two mega-sets. "Mission: Impossible – The Complete Television Collection" (Paramount) collects all seven seasons of the original sixties/early seventies incarnation of the secret agent series of special missions and elaborate international confidence games plus the 1980s revival with Peter Graves commanding a new team, all in a high-concept case designed like a stick of dynamite with long fuse. Also this week is "JAG: The Complete Series" (Paramount), collecting all ten seasons of the military legal series starring David James Elliott and Catherine Bell in a more conventional (but still handsomely designed) box set. More on Videodrone here.
Plus the made-for-HBO documentary "41" (HBO), on President George W. Bush, and new seasons of "Futurama: Volume 7" (Fox) and "Law & Order: Criminal Intent – The Ninth Year" (Shout! Factory).
On the manufacture-on-deman​​d format comes "Hawkins," the short-lived legal series starring James Stewart as a fierce defense attorney with a folksy manner, plus "Sheena" and the "CHiPs" reunion TV movie. More on the MOD TV roundup here.
Flip through the TV on Disc Channel Guide here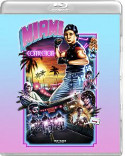 Cool and Classic:
"Miami Connection" (Alamo Drafthouse) resurrects a gonzo B-movie from the eighties created by Y.K. Kim, a martial arts instructor and inspirational speaker who took his talents to the big screen. The tale of a synth-rock band made up of Taekwondo black belts who take on a gang of drug-dealing motorcycle Ninjas in Tampa is a mind-bogglingly incompetent production that was dumped to video after a disastrous local release and forgotten for decades, until it was resurrected as a midnight movie by Austin's Alamo Drafthouse. The newly-minted cult classic debuts on Blu-ray and DVD in a special edition. Videodrone's review is here.
In "The Story Of Film: An Odyssey" (Music Box), Mark Cousins takes an unconventional approach to the history of cinema, from the first moving images to modern movies, that emphasizes innovation, expression, and the cross-cultural fertilization of ideas spanning the entire globe. The 15-hour series acknowledges the business and culture of movies, but celebrates the art above all. Five discs plus a booklet, DVD only. Reviewed in Videodrone here.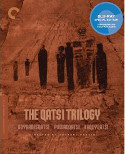 "The Qatsi Trilogy" (Criterion) collects all three meditative visual essays by Godfrey Reggio: "Koyaanisqatsi" (1983), "Powaqqatsi" (1988), and "Naqoyqatsi" (2002). Ostensibly portraits of modern life out of balance with the earth, they are also astounding beautiful impressions of the world with hypnotic scores by Philip Glass. Blu-ray and DVD, in a box set with interviews, featurettes, and other supplements. Videodrone's review is here.
"Following" (Criterion), the first feature by Christopher Nolan, gets the Criterion treatment in a special edition featuring commentary, a chronological edit of the story, and other supplements. Blu-ray and DVD.
Also new this week: Mario Bava's "Baron Blood" (Kino) with Joseph Cotten (Blu-ray and DVD), the spaghetti western double features "Django! A Man Called Django / Django and Sartana Showdown" (Timeless) and "Django! Cut Price Corpses / Django Kills Silently" (Timeless), and the modern pirate movie "The Island" (Shout! Factory) with Michael Caine.
All of the Cool and Classic here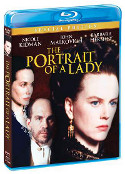 Blu-ray Debuts:
"The Portrait of a Lady" (Shout! Factory), Jane Campion's adaptation of the Henry James novel, stars Nicole Kidman as an American in Europe lured into a relationship with a controlling, manipulative man looking for position in society.
"The Wild Geese" (Severin) is "Dirty Dozen"-styled action with a fiercely loyal team of British mercenary paratroops on a mission in a civil war-torn African nation, led by Richard Burton and featuring Roger Moore, Richard Harris, and Hardy Kruger.
"Les Miserables" (Sony), the 1998 screen version of the oft-filmed Victor Hugo classic, stars Liam Neeson as Jean Valjean, Geoffrey Rush as Javert, and Uma Thurman as Fantine. What do you think could have inspired this timely release?
"The Joy Luck Club" (Disney), Wayne Wang's 1993 adaptation of Amy Tan's novel of mothers and daughters in San Francisco's Chinese-American community, stars Ming-Na, Tamlyn Tomita, Lauren Tom, and Rosalind Chao as the daughters trying to make their own way in the modern world.
Also new this week: "Dick Tracy" (Disney), the bright, live-action comic strip of a movie directed by and starring Warren Beatty; the 1980 "The Blue Lagoon" (Twilight Time) with Brooke Shields, and the 1973 musical version of "Lost Horizon" (Twilight Time).
Peruse all the new Blu-rays here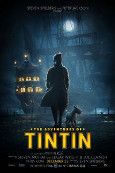 New on Netflix Instant:
"The Adventures of Tintin" (2011), Steven Spielberg's first foray into motion capture filmmaking, turns the legendary boy journalist and globe-trotting adventurer from the early graphic novels of Herge into a big screen hero. Videodrone's review is here.
"Ai Weiwei: Never Sorry" (2012), a profile of the acclaimed Chinese artist, filmmaker, and political activist, is one of the 15 films on the Oscar shortlist for Best Documentary. Rewind a decade and Michael Moore's "Bowling for Columbine" (2002) won the Oscar for Best Documentary with a cage-rattling investigation into America's love affair with guns and violence in the wake of Columbine.
New classics include "The Gunfight at the O.K. Corral" (1957), with Burt Lancaster and Kirk Douglas, and "The Hound of the Baskervilles" (1959), the Hammer Films take on the Sherlock Holmes mystery with Peter Cushing and Christopher Lee.
And there's a great batch of films for kids and families just in time fro the holidays: the original "The Muppet Movie" (1979), a Hollywood fairy tale of a frog who dreams of show biz, the Tim Burton-produced animated features "The Nightmare Before Christmas" (1993) and "James and the Giant Peach" (1996), and a bunch of Disney animated features, including "Dumbo" (1941), "Alice in Wonderland" (1951), and "Pocahontas" (1995).
New Instant TV includes "Bones: Season 7" and Seasons One through Seven of the made-for-cable sitcom "It's Always Sunny in Philadelphia."
Browse more Instant offerings here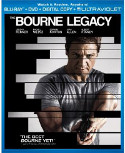 New On Demand:
"Ted," Seth MacFarlane's foul-mouthed comedy about a man-boy and his talking magical teddy bear (available in an extended, unrated edition), and "The Bourne Legacy," a spin-off from the action series with Jeremy Renner taking over leading man duties from Matt Damon.
Arriving in advance of home video is Frederick Wiseman's documentary "Crazy Horse." Debuting on Friday, December 14, same day as its theatrical premiere, is the indie drama "Yelling to the Sky" with Zoë Kravitz and Gabourey Sidibe.
Available from Redbox this week:
A few titles from a couple of weeks back arrive in the kiosks: "The Watch" (Fox, reviewed here), a comedy with Ben Stiller, Vince Vaughn, Jonah Hills and Richard Ayoade as neighbors uncover an alien invasion (Fox, reviewed here); Oliver Stone's crime thriller "Savages" (Universal, reviewed here) with Taylor Kitsch, Aaron Johnson, and Blake Lively; and the indie horror anthology film "V/H/S" (Magnolia, reviewed here).