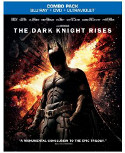 New Releases:
"The Dark Knight Rises" (Warner), the culmination of Christopher Nolan's trilogy of high-minded comic book superhero action spectacles by way of pop-art social commentary, doesn't want for ambition. It's a big canvas with big (if vague) ideas, big metaphors, and outsized performances. Plus Anne Hathaway in catsuit. Blu-ray, DVD, digital download, and On Demand. Videodrone's review is here.
"Beasts of the Southern Wild" (Fox), winner of the Grand Jury Prize as Sundance 2012, is an imaginative and vibrant film that rolls out like a stream of consciousness poem from the mind of a little girl who intermixes fantasy and reality. Its portrait of resolute swamp folk in post-Katrina New Orleans swerves into cliché, but the imagery and offbeat storytelling is often mesmerizing. Blu-ray, DVD, digital download, and On Demand. Reviewed on Videodrone here.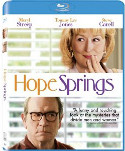 "Hope Springs" (Sony) stars Meryl Streep and Tommy Lee Jones as an old married couple who sign on for marriage counseling with Steve Carell to spice up their relationship. Blu-ray, DVD, digital download, On Demand, and at Redbox.
"The Odd Life of Timothy Green" (Disney) stars Jennifer Garner and Joel Edgerton as a childless couple who appear to grow a son out of a wish made upon their garden. Blu-ray, DVD, digital download, On Demand, and at Redbox. Jennifer Garner also stars in "Butter (Anchor Bay), a red-state political satire set in the world of a butter carving competition. Blu-ray and DVD.
The foreign releases this week are toplined by "Unforgivable" (Strand), André Téchiné's new romantic thriller with André Dussolier and Carole Bouquet, and "Alps" (Kino) from Greek filmmaker Yorgos Lanthimos (both on DVD), while Oscar shortlist documentary "Ai Weiwei: Never Sorry" (Sundance Selects) arrives on Blu-ray, DVD, and On Demand.
Browse the complete New Release Rack here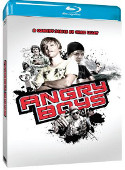 TV on Disc:
"Angry Boys" (HBO) is the latest creation from Australian comedian / writer / producer Chris Lilley. He plays six characters, not just boys and not all angry, but they are messed up and lacking in self-awareness, a theme in Lilley's universe. In addition to Aussie characters, he also plays an American rapper (in modern blackface) and the domineering Japanese-American mother of teenage skateboard sensation, caricatures that push the boundaries of good taste and intelligent satire. Blu-ray and DVD. Also new this week on DVD is his 2007 series "We Can Be Heroes" (HBO). Videodrone's review is here.
"World Without End" (Sony), a sort-of sequel to Ken Follet's "The Pillars of the Earth," takes place in the same town 100 years later to find a similar play of power and corruption in the tie of the Black Death. The eight-part, eight-hour mini-series is on Blu-ray and DVD. Reviewed on Videodrone here.
"Titanic: Blood and Steel" (Lionsgate) as the second mini-series about the fateful voyage of the unsinkable ship for 2012. This 12-part production, made for cable, stars Kevin Zegers, Neve Campbell, Derek Jacobi, and Chris Noth. Blu-ray and DVD
Plus: the web series "The Legend of Neil: The Complete Series" (Flatiron), a comic fantasy about a guy sucked into a video game (DVD); "Mannix: The Final Season" (Paramount) with Mike Conners (DVD); "The Simpsons: The Fifteenth Season" (Fox, DVD); and another tour with Kenny Powers in the HBO comedy "Eastbound & Down: The Complete Third Season" (HBO, Blu-ray and DVD).
Flip through the TV on Disc Channel Guide here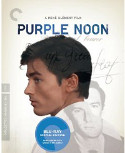 Cool and Classic:
"Purple Noon" (Criterion), the first screen version of Patricia Highsmith's novel "The Talented Mr. Ripley," stars Alain Delon as Tom Ripley, the amoral American in Europe who murders his playboy benefactor and takes his identity. Delon plays Ripley with enough sinister charm and confidence to make him an endearing anti-hero. Blu-ray and DVD, with new and archival interviews. Reviewed on Videodrone here.
"Mystery Science Theater 3000: XXV" (Shout! Factory) yuks it up with heckling commentary on four cult movies: "Kitten With a Whip" with Ann-Margret, the Bond knock-off "Operation Kid Brother," the "Black Lagoon" sequel "Revenge of the Creature," and "Robot Holocaust." Four discs in a box set plus supplements. DVD only.
Plus "Ninja Scroll" (Sentai), the 1995 anime thriller that set the bar for animated samurai action, in a new DVD and Blu-ray debut edition, and the original 1984 Santa slasher horror and its first sequel in "Silent Night, Deadly Night: Double Feature" (Anchor Bay) on DVD.
Debuting on the manufacture-on-deman​​d format is "Perry Mason: The Original Warner Bros. Movies Collection" (Warner Archive), featuring six films from the early thirties that first brought the legendary lawyer to the screen. Videodrone's review is here.
All of the Cool and Classic here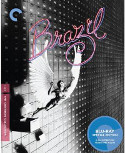 Blu-ray Debuts:
"Brazil" (Criterion) marks the Blu-ray debut of Terry Gilliam's 142-minute director's cut of his dark, dense science fiction fantasy, an absurdist nightmare of Kafka-esque dimensions, along with two superb documentaries and the unreleased 92-minute version that Universal prepared to give the film a happy ending among the supplements. Videodrone's review is here.
The German language version of "The Blue Angel" (Kino), the film that made Marlene Dietrich an international star, also debuts. Reviewed in Videodrone here.
"Star Trek: The Next Generation – Season Two" (Paramount) continues the roll-out of the "Star Trek" TV shows in newly-remastered editions prepared for HD. 22 episodes on five discs, plus new supplements and an extended edition of "The Measure of a Man." Videodrone's review is here.
"Francis Ford Coppola 5-Film Collection" (Lionsgate) collects both "Apocalypse Now" and his revised and expanded "Apocalypse Now Redux" along with his brilliant "The Conversation," his studio musical "One From the Heart," and the recent drama "Tetro," in a four-disc set.
Frank Sinatra is a would-be presidential assassin in "Suddenly" (Image), the low-budget 1954 thriller he made before his fifties comeback (and years before "The Manchurian Candidate").
Plus: Steven Spielberg's "Catch Me If You Can" (Paramount) with Leonardo Di Caprio and Tom Hanks and Blu-ray 3D editions of Pixar's "Finding Nemo 3D" (Disney) and "Up 3D" (Disney).
Peruse all the new Blu-rays here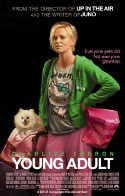 New on Netflix Instant:
"Young Adult" (2011), from "Juno" director Jason Reitman and screenwriter Diablo Cody, is a caustic dark comedy starring Charlize Theron in a brilliant performance as a self-absorbed author of juvenile fiction.
"The English Patient" (1996), a lushly romantic World War II drama starring Ralph Fiennes, Kristin Scott Thomas, and the angelic Juliette Binoche, could be "Casablanca" for the nineties. It won nine Academy Awards, including Best Picture and Best Director).
"Nobody's Fool" (1994) offers Paul Newman one of his greatest roles as an easy-going screw-up who finally starts to grow up. Daniel Day-Lewis stars in "The Last of the Mohicans" (1992), Michael Mann's muscular version of the James Fennimore Cooper frontier classic.
Plus "Sexy Beast" (2001) with Ben Kingsley as a fierce London thug and the film noir classic "Double Indemnity" (1944) with Barbara Stanwyck and Fred MacMurray.
Browse more Instant offerings here

New On Demand:
A robust selection of new releases arrives same day as disc, beginning with "The Dark Knight Rises," the final film in Chris Nolan's ambitious dark comic-book trilogy.
Also arriving: Sundance favorite and acclaimed indie "Beasts of the Southern Wild," the romantic comedy "Hope Springs" with Meryl Streep and Tommy Lee Jones, family film "The Odd Life of Timothy Green" with Jennifer Gardner, Oscar short-list documentary "Ai Weiwei: Never Sorry," and direct-to-disc family sports comedy "Thunderstruck" with Kevin Durant and Brandon T. Jackson (covered later in the B-Sides round-up).
Theatrical films available On Demand this week are the documentaries "The Central Park Five," co-directed by Ken Burns, and "Dying to Do Letterman."
Available from Redbox this week:
The romantic comedy "Hope Springs" (Sony) with Meryl Streep and Tommy Lee Jones and the family film "The Odd Life of Timothy Green" (Disney) with Jennifer Gardner arrive same day as video stores.
Also arriving in Redbox kiosks this week is the horror film "The Apparition" (Warner), which hit disc last week (reviewed on Videodrone here) the Nicolas Cage thriller "Stolen" (Millennium), which is scheduled for official disc release in early 2013, making this a Redbox exclusive for this direct-to-disc release.