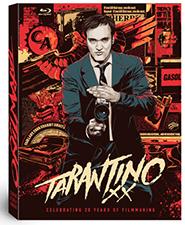 I don't know of another American filmmaker who brings such joy to the act of cinematic storytelling as Quentin Tarantino.
From his attention-grabbing debut with "Reservoir Dogs" (1992), a deviously clever heist film where the heist is never seen and the drama is all in the conversation and the ingenious structure, to his acclaimed "Inglourious Basterds" (2009), his thrilling rewrite of World War II history as a magnificent movie fantasy, Tarantino has gone his own way, snatching up ideas strewn through decades of film history and hundreds of genre movies like a magpie, rethinking them completely, and weaving them into entirely new stories that unfold at a leisurely pace so he can enjoy every word and gesture along the journey.
"Tarantino XX: 8-Film Collection" (Lionsgate) celebrates his love of movies and moviemaking by collecting all seven feature films directed by Tarantino — plus one film written by Tarantino and directed with an appreciation for his sensibility — in a single box set (beautifully designed with a fold-out mural by Mondo artist Ken Taylor) with two new discs of supplements.
The films have all been available on Blu-ray before and those discs are essentially reproduced for this set, supplements and all, from Tarantino's commentary on "True Romance" (his sole commentary track for any of his films) to interviews with Tarantino and his collaborators on "Jackie Brown" and "Inglorious Basterds."
What's new to this set are the extras on the two bonus discs. On Bonus Disc One is "Critics' Corner: The Films of Quentin Tarantino," a discussion with film critics Scott Foundas, Stephanie Zacharek, Tim Lucas, and Andy Klein, moderated by Tarantino fan and friend Elvis Mitchell. All eight films in the set are covered in a discussion that runs 290 minutes — almost five hours altogether. Portions of this presentation were used in the earlier Blu-ray releases of "Pulp Fiction" and "Jackie Brown" but this disc presents an extended cut of the conversation, which you can watch straight through or access film by film.