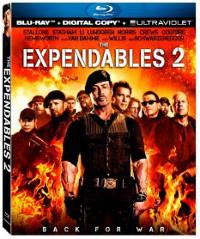 The over-the-hill mob is back for more mayhem.
Sylvester Stallone gambled that there was an audience for old action heroes doing their thing on the big screen and brought a handful of them together for "The Expendables" in 2010. That was also pretty much the plot of the film — a crew of aging mercenaries go on a mission. For insurance, Stallone brought along Jason Statham as chief sidekick and current box office attraction, but the drawing power was all in the cast of old dogs doing their thing again after all these years: Stallone, Dolph Lundgren, Jet Li, Eric Roberts, Mickey Rourke, with assistance by Terry Crews and current B-movie regular Randy Couture and Steve Austin and cameos by Bruce Willis and Arnold Schwarzenegger.
For the obligatory sequel, Stallone hands off direction to Simon West and ups the ante with more old faces on a mission that has something to do with plutonium and black market arms and peasants forced into slave labor. Rourke is MIA this time, but Chuck Norris makes a special guest appearance and Jean-Claude Van Damme gets to go the bad-ass as a real nasty bad guy named Vilain (get it? It's Villain without the extra l!) while young up-and-comer Chris Hemsworth (aka Thor) barely registers in the mix.
Not that much of anything registers beyond the schtick of old guys playing around with their legacies, especially with Willis and Schwarzenegger getting expanded roles this time around, swapping tag lines between rounds, and Norris swaggering into the action like a Texas Ranger on a field trip to Asia.