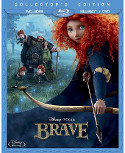 New Releases:
"Brave" (Disney), a colorful adventure set in medieval Scotland, is Pixar's first adventure centered on a female hero and a mother/daughter relationship and it is a delight, with a wild-haired tomboy of a princess warrior, an elegant queen transformed into a burly, lumbering mama bear, and a life lesson for all. Blu-ray, Blu-ray 3D, DVD, and On Demand. Videodrone's review is here.
In "Savages" (Universal), Oliver Stone returns to the crime genre for a thriller about two California pot growers (Taylor Kitsch and Aaron Johnson), their shared girlfriend (Blake Lively), a Mexican druglord (Salma Hayek), and a corrupt FBI agent (John Travolta). Blu-ray, DVD, and On Demand, all featuring an unrated version of the film. Reviewed in Videodrone here.

"The Watch" (Fox) stars Ben Stiller, Vince Vaughn, Jonah Hills and Richard Ayoade as neighbors who join the neighborhood watch of their sleepy little community and uncover an alien invasion. Blu-ray, DVD, and On Demand.
On the indie front, Jordan Gelber and Selma Blair star in the dark comedy "Dark Horse" (Virgil) from Todd Solondz, Julie Delpy directs, writes, and stars in "2 Days in New York" (Magnolia) with Chris Rock, and Alicia Silverstone and Krysten Ritter are undead party girls in "Vamps" (Anchor Bay).
Leading off the foreign releases this week is "A Burning Hot Summer" (IFC) with Monica Bellucci and Louis Garrel, and documentaries include "The Queen of Versailles" (Magnolia) and the extreme stunt feature "Nitro Circus: The Movie" (Arc). See interview with "Nitro Circus" stunt rider Travis Pastrana at The Hitlist here.
Browse the complete New Release Rack here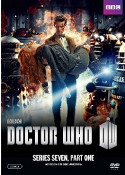 TV on Disc:
"Doctor Who: Series Seven, Part One" (BBC) only features five episodes of the new season, but they are The Doctor's (Matt Smith) last adventures with Amy and Rory Pond (Karen Gillan and Arthur Darvill) and their farewell tour includes return visits from the Daleks and the creepy "Weeping Angel" statues. Blu-ray and DVD, with supplements. Videodrone's review is here.
"The Incredible Mel Brooks" (Shout! Factory) is really a grab bag of all things Brooks outside of his feature films: talk show appearances, TV specials, comedy skits, TV shows he wrote, TV shows in which he appeared, TV commercials, animated shorts, and a couple of documentaries about Brooks, a collection spanning sixty years. This is for the dedicated Brooks fan. DVD only, five discs plus a bonus CD. Videodrone's review is here.
"Friends: The Complete Series" (Warner) and "The Dick Van Dyke Show: The Complete Series" (Image) both debut on Blu-ray ray in box sets, just in time for the holiday gift season. Reviewed on Videodrone here.
Flip through the TV on Disc Channel Guide here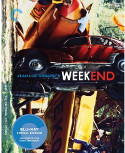 Cool and Classic:
Jean-Luc Godard's "Weekend" (Criterion) is more than a movie. This landmark of sixties cinema is Godard's apocalyptic send-off to consumer society, transforming aggressive consumers and social lemmings into cannibal guerrillas and proclaiming the end of cinema as we know it. With a video essay, archival supplements, and a booklet. Blu-ray and DVD. Videodrone's review is here.
"Harry Potter and the Deathly Hallows – Parts 1 and 2: Ultimate Edition" (Warner) offers a six-disc set with Blu-ray, DVD, and UltraViolet editions of the two-part finale of the Harry Potter saga. The set features a 48-page booklet, two more installments of the "Creating the World of Harry Potter" documentaries (previously available only in complete "Harry Potter Wizard's Collection"), and other supplements, but no Blu-ray 3D version.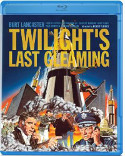 "Twilight's Last Gleaming" (Olive), directed by Robert Aldrich and starring Burt Lancaster as a patriot who takes over a missile silo, was a flop on release but prescient in retrospect as one of the more interesting (and plausible) seventies political conspiracy thrillers. Blu-ray and DVD, with a feature-length documentary on the film. Reviewed on Videodrone here.
"Trilogy Of Life: The Decameron, The Canterbury Tales, Arabian Nights" (Criterion), Pier Paolo Pasolini's earthy, raunchy adaptations of three classics  of medieval literature, comes to Blu-ray and DVD in a special edition packed with new and archival extras.
Plus: "We Can't Go Home Again" (Oscilloscope), the reconstructed final feature by Nicholas Ray; "Pixar Short Films Collection: Volume 2" (Disney), with 12 animated shorts from the past few years; and D.W. Griffith's 1930 "Abraham Lincoln" (Kino) with Walter Huston.
All of the Cool and Classic here

Blu-ray Debuts:
"Lawrence of Arabia: Fiftieth Anniversary" (Sony) is an exhaustive 4k digital restoration of David Lean's masterpiece, building on the chemical restoration of the 1980s with newly-available digital tools. It's also one of the most beloved film classics, most intelligent cinema epics, and most anticipated Blu-ray releases ever. It debuts in a two-disc edition and four-disc Limited Edition box set. Videodrone's review is here.
"Bonjour Tristesse" (Twilight Time), one of the chilliest masterpieces from Otto Preminger, stars David Niven as a gadabout bachelor playboy on the French Riviera and Jean Seberg as his petulant daughter and partner in social party-going. And on the subject of Preminger, "The Otto Preminger Collection" (Olive) presents the respective Blu-ray debuts of three more films: "Hurry Sundown," "Skidoo," and "Such Good Friends." Videodrone reviews them here.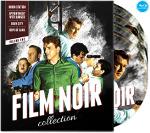 "Dark Star" (VCI), John Carpenter's ultra-low budget feature debut, brings the extended cut of the film to HD along with the two-hour documentary "Let There Be Light: The Odyssey of Dark Star" and other supplements.
"Film Noir Collection I" (Olive) presents four films previously on DVD only: "Rope of Sand" with Burt Lancaster, "Union Station" with William Holden, "Dark City" with Charlton Heston, and "Appointment with Danger" with Alan Ladd. Reviewed on Videodrone here.
Plus: "The Rains Of Ranchipur" (Twilight Time) with Lana Turner and Richard Burton and new special editions of "Harold & Kumar Blu-ray Ultimate Collector's Edition" (Warner) and "My Big Fat Greek Wedding: 10th Anniversary Special Edition" (Lionsgate).
Peruse all the new Blu-rays here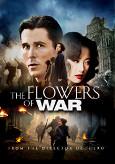 New on Netflix Instant:
"The Flowers of War" (2011), Zhang Yimou's Chinese epic about the fall of Nanjing, stars Christian Bale as an American on the run who poses as a priest and becomes an unlikely hero when he hides out in a walled cathedral. Videodrone's review is here.
"Lockout" (2012), produced and co-written by Luc Besson, plays like a cheesy "Escape From New York" relocated to a maximum security prison in space, with Guy Pearce as a government agent framed for murder and Maggie Grace as a civilian trapped on the station. Reviewed on Videodrone here.
John Ford won an Oscar for directing "The Grapes of Wrath" (1940), a surprisingly faithful adaptation of Steinbeck's novel with superb performances from Henry Fonda, Jane Darwell, and John Carradine. More American classics now available: "For Whom the Bell Tolls" (1943) with Gary Cooper and Ingrid Bergman, "Anna Karenina" (1948) with Vivian Leigh, and "Hombre" (1967) with Paul Newman.
And arriving before disc is MTV's teen supernatural series "Teen Wolf: Season Two."
Browse more Instant offerings here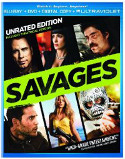 Pixar's celebrated animated adventure "Brave" is available in both standard and 3D editions. Also available same day as disc: Oliver Stone's "Savages" (in an unrated edition) with Taylor Kitsch and Blake Lively, the comedies "The Watch" (Fox) with Ben Stiller and Vince Vaughn and "Vamps" with Alicia Silverstone and Krysten Ritter, and the documentaries "The Queen Of Versailles" and "Nitro Circus: The Movie," the latter also available in 3D.
Arriving On Demand before disc is Spike Lee's "Red Hook Summer," which is currently making the rounds in theaters.
Available from Redbox this week:
"Moonrise Kingdom" (Universal), the playful and affectionate new film from Wes Anderson (recommended by Videodrone here), and the political comedy "The Campaign" (Warner) with Will Ferrell and Zach Galifianakis arrive a couple of weeks after video stores, plus "Fire With Fire," the Bruce Willis thriller that arrived direct-to-disc last week.
Redbox DVD flashback this week is "Love Actually" (Universal), the not-altogether-succe​​ssful holiday-themed romantic comedy from 2003 that has its moments, actually.