"The Incredible Mel Brooks" (Shout! Factory) – This five-disc collection is really a grab bag of all things Brooks outside of his feature films: talk show appearances, TV specials, comedy skits, TV shows he wrote, TV shows in which he appeared, TV commercials, animated shorts, and a couple of documentaries about Brooks, a collection spanning sixty years. Which may be too much of a Brooks thing for your average viewer, but let's face it, your isn't made for you average viewer. This is for the dedicated Brooks fan and by that measure, it is marvelous.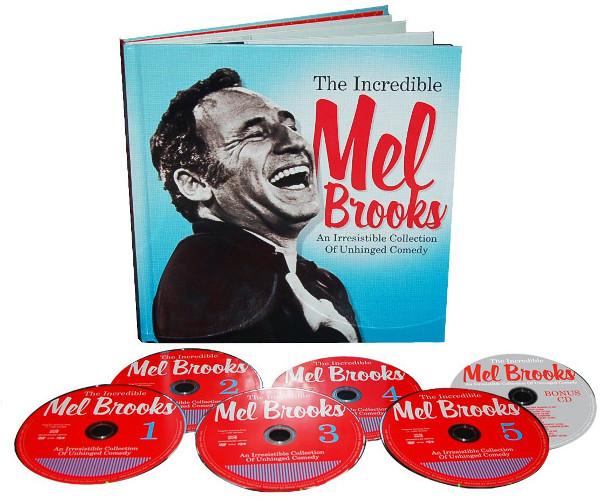 For the Brooks comedy completists, it includes the pilot episode to "Get Smart," the spy spoof sitcom he created with Buck Henry, and Brooks' favorite episode of the short-lived "Robin Hood" sitcom "When Things Were Rotten," with guest star Sid Caesar. This is Brooks as writer and creator bringing his brand of comedy to TV and he provides new video introductions to each of these, with Henry joining him for "Get Smart."
But just as funny and entertaining are his many appearances on TV talks shows: "The Tonight Show with Johnny Carson," "The Dick Cavett Show," the British talker "Wogan," plus the 1984 British special "An Audience with… Mel Brooks" (where Helen Mirren wins a bet with him) and the 2010 cable special "Mel Brooks and Dick Cavett Together Again" (with guest appearance by Carl Reiner).  Brooks is a born improviser and he thrives in these situations no less than he did when doing "The 2000 Year Old Man" with Carl Reiner (and there is some of that here too).
There's plenty more here as well, including the Oscar-winning animated short "The Critic" (1963), with Brooks providing stream of comic improvisational narration, the documentaries "I Thought I Was Taller: A Short History of Mel Brooks," a 1981 episode of the British arts series "Arena" guided entirely by Brooks' comic sensibility, and the 2012 PBS special "Excavating the 2000 Year Old Man," all new interviews on "Mel and His Movies" which cover his entire career in five parts, and a bonus CD with more songs and skits and interviews, all in a 60-page illustrated book with notes and program guide and slipsleeves for each disc.