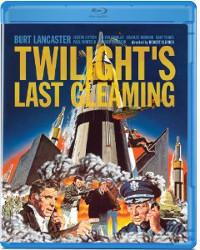 Robert Aldrich's "Twilight's Last Gleaming" (Olive) combines the "men on a mission against long odds" adventure with the conspiracy thriller that thrived in the seventies to create a politically-minded heist film. Burt Lancaster leads this mission as a patriotic career soldier and army officer who leads a volatile group of military misfits to take command of a military silo in Montana and hold the nation hostage. More than money, Lancaster wants to reveal the buried truth behind the Vietnam war, a secret that America's military gatekeepers will do anything to keep buried.
Aldrich isn't as sharp a filmmaker as he was even in the early seventies and there's some sloppiness to the action and the storytelling, but Lancaster and Charles Durning (as the President) keep the film grounded and the political stakes carry a punch that seems more prescient than ever. It was a critical and financial flop in 1977 but seen in context of seventies political conspiracy thrillers, it remains one of the more interesting (and plausible) proposals.
Blu-ray and DVD, mastered from a new restoration (it looks superb), with the feature-length documentary "Aldrich Over Munich" on the making of the film.