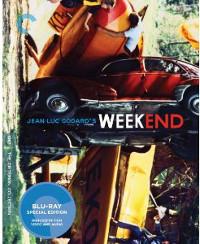 Jean-Luc Godard's "Weekend" (Criterion) is more than a movie.
This landmark of sixties cinema is a blast across the bow of a consumer culture eating itself alive. Mireille Darc and Jean Yanne play a horrifically greedy and venal bourgeois couple whose weekend in the country is stopped short by an epic traffic jam that devolves into a veritable war zone of burning cars and mangled bodies — a perfect backdrop for their feral ways. Their travels take them through a surreal assortment of artists and lost souls (including Jean-Pierre Léaud as both Saint-Just and a man in a phone booth singing his apologies to a lover) until they are taken by a band of cannibal revolutionaries.
Godard's apocalyptic send-off to consumer society is a scathing satire where everyone and everything is fair game and the black humor has the bitter taste in bile. "End of movie. End of cinema."
It's been on DVD before from New Yorker, but Criterion masters their new Blu-ray and DVD editions from a 2k digital scan of the original camera negative. The supplements are anchored by "Revolutions Per Second" is a superb 24-minute video essay by Kent Jones that places "Weekend" in its cultural time and place as well as Godard's career. Also includes archival interviews with actors Mireille Darc and Jean Yanne, cinematographer Raoul Coutard, and assistant director Claude Miller, and an excerpt from a 1967 episode of the French TV documentary program "Seize millions de jeunes" with footage from Godard on the set of "Weekend," plus a booklet with a new essay by critic and novelist Gary Indiana and archival notes and interviews on the film.