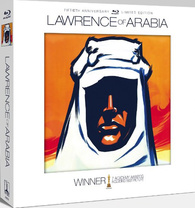 "Lawrence of Arabia" is not simply one of my favorite films, it's a treasured film experience and to my mind the most glorious big screen film ever made. It won seven Academy Awards, including Best Picture, but  the complete version was unavailable for decades, and David Lean himself never completed his definitive cut of the film before the film was premiered and subsequently edited down for wide release
In 1988, the film was famously reconstructed and restored with the close participation of Lean, who took the opportunity to finally fine-tune his definitive cut, and it was re-released in grand manner in 1989, with new 70mm prints struck for show palace presentations in addition to conventional 35mm prints. At that time, however, photochemical restoration could only repair so much of the age- and heat-related damage to the original materials.
"Lawrence of Arabia: Fiftieth Anniversary" (Sony) presents the long-awaited Blu-ray debut of the film mastered from an exhaustive 4k digital restoration of David Lean's masterpiece. This new efforts builds on the 1989 version with newly-available digital tools to repair previously irreparable footage and pull out a clarity beyond what was not possible before. Which is just what Sony was awaiting before releasing one of the most beloved film classics and most intelligent cinema epics to Blu-ray.
How does this look? To quote T.E. Lawrence: "It's clean." Yes, and it's clear and sharp and strong, as beautiful a Blu-ray as you've seen. The original camera negative was scanned at 8k, creating an enormous digital snapshot of every frame of film to work from, and then the finished production was "down-rezzed" to 4k for digital projection and digital mastering on Blu-ray. Home Theater Forum contributor and veteran film archivist Robert Harris, who worked on the original 1989 restoration, gives this digital restoration and the Blu-ray production the highest marks possible.