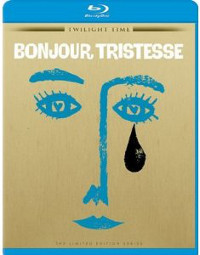 Otto Preminger is one of the most fascinating directors of his time, a quiet moralist, an austere, understated stylist, and a director who maintained his independence by operating with the savvy and bottom-line awareness of a producer. This week, four films from the second half of his career debut on Blu-ray.
Bonjour Tristesse (Twilight Time) is one of the director's most understated films: cool, introspective, sleek, and removed. Adapted from the novel by Francoise Sagan by playwright Arthur Laurents, the 1958 film explores the repercussions in a rift between gadabout bachelor playboy David Niven and his partner in party-going daughter Jean Seberg when smart, sensible, and mature Deborah Kerr enters their lives. Told in flashback from a sleek but shadowy B&W Paris, the film erupts in vivid Technicolor to explore the gorgeous French Riviera but the film is anything but sunny.
Seberg flatly drones her narration but her impish, often petulant performance is perfect for the spoiled teenager and Kerr's middle-aged working woman seems puritanical compared to the irrepressible jet setters but is never less than honest, true and forthright. Preminger's camera prowls through the drama just removed enough to be respectful, and intimate enough to get under their skin. The Twilight Time release has limited run of 3000 copies and features its usual isolated score track and a booklet with notes by Julie Kirgo. Available exclusively from Screen Archives.
The Otto Preminger Collection (Olive) presents the respective Blu-ray debuts of three more films recently released on DVD: "Hurry Sundown" (1967), "Skidoo" (1968), and "Such Good Friends" (1971)