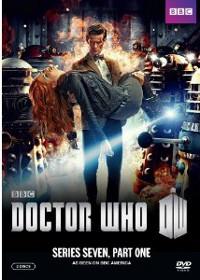 "Doctor Who: Series Seven, Part One" (BBC) – The 21st century BBC "Doctor Who" revival has turned into one of the network's most popular exports. With only a few new episodes every year, the demand is great enough for BBC to release the season in sections.
So while we await the seventh series to conclude on BBC / BBC America, the five episodes of the first half of the season arrive on disc for those who simply can't wait for the full season release next year.
This round opens with The Doctor (Matt Smith) arriving to find the Ponds, Amy (Karen Gillan) and Rory (Arthur Darvill), on the verge of divorce and kidnapped by the Daleks, a situation that spurs a fairly quick reconciliation in the name of survival. So once again the only married couple to accompany The Doctor hops into the TARDIS for another round of adventures that take them to the planet of the mad Daleks, the crippled freighter of an interstellar poacher (an episode with not one but two regulars from the "Harry Potter" series), a 19th century frontier town in the American west under threat from an alien gunman, a "slow invasion" by alien cubes, and a return visit from the "Weeping Angel" statues as they move on Manhattan.
It's also the farewell run of the Ponds on "Doctor Who," who make a poignant and profound exit. A new companion is slated to join him when the series returns in 2013. And you just may get a clue as to who that will be in this round.