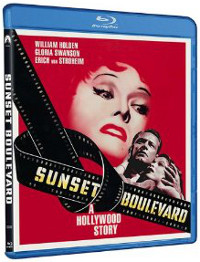 "I am big! It's the pictures that got small!"
Sunset Boulevard (Paramount), the blackest of Hollywood's self portraits, is an old dark house of a ghost story inhabited by the living shadows of its discarded stars.
Gloria Swanson is magnificent as Norma Desmond, the former silent movie queen living in her memories while plotting a fantasy of a comeback, and she understands both the monstrous and pathetic dimensions of her demented diva. William Holden is the failed screenwriter with a mercenary streak who plays the gigolo to hide from creditors. Director/co-writer Billy Wilder makes his scabrous and acidic expose of Hollywood's living graveyards both ghoulish and tragic, thanks in part to the quiet devotion of Erich von Stroheim's performance as her butler and, once upon a time, her director. It was a biting in-joke for tinseltown historians at the time, as von Stroheim's directorial career was destroyed by "Queen Kelly," where he directed Gloria Swanson. Wilder even fit some of that footage into the "home movie" scene.
The long-awaited Blu-ray debut comes from a new digital master from the best surviving  elements. Not only does it look rich with detail and texture, but Home Theater Forum restoration guru Robert Harris remarks that he's "thrilled" with what he's seen based on the materials at hand.
New for this disc is the never-before-release​d deleted scene: "The Paramount Don't Want Me Blues," a party sing-along scene with Jack Webb and, in the final frames, William Holden's entrance. Nothing revelatory but it's a fun piece of ephemera.