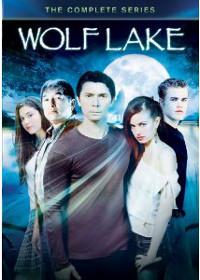 "Wolf Lake: The Complete Series" (eOne), a supernatural melodrama of a werewolf pack living as humans in a rural Washington State town, arrived on TV between "Buffy the Vampire Slayer" and the current revival in fantasy / horror TV. Only nine episodes were produced before it was cancelled but the show definitely looks ahead to shows like "The Vampire Diaries" and "Teen Wolf."
Lou Diamond Philips stars as a Seattle cop who tracks his missing girlfriend (Mia Kirshner) to a small town in the middle of Washington State, where there are definitely some strange doings: the women are extremely fertile (in fact, they seem to give birth in litters!), there are inordinate number of wolf sightings and attacks, and everyone is really cagey about their nocturnal activities. Yet cagey sheriff Tim Matheson hires him anyway because, well, he's a pretty good cop and with the pack leader (Bruce McGill) dying of cancer and a young thug (Scott Bairstow) vying for the alpha dog spot, he's got his hands full. Did I mention that Matheson run an AA-styled group for shapeshifters trying to keep the wild wolf at bay? The show also features early appearances by Paul Wesley (now on "The Vampire Diaries") and Mary Elizabeth Winstead, and features Graham Greene as town elder with a droll sense of humor and a little coyote spirit in him and Sharon Lawrence as a den mother with a ferocious streak. I can't say it's a transcendent example of the genre, but it's great fun as a rural supernatural show with noir style and a knowing sense of itself.
The three-disc set also features the documentary "Wolf Lake: The Original Werewolf Saga" and the unaired original pilot episode, which comes at the same basic concept with a radically different approach, with Lou Diamond Philips as a Forest Management agent secretly tracking the shapeshifter community, Graham Greene as his local counterpart, and no Mia Kirshner in the equation. Interesting to see how the show was radically retooled to become more of a gothic melodrama with factions fighting for power in the wolf pack and teens struggling with their legacy. DVD only.