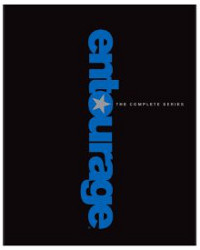 Entourage: The Complete Series (HBO) – Adrian Grenier is Vincent Chase, Brooklyn kid turned rising Hollywood star, and when he follows his career to Hollywood, he brings his buddies along for the ride and for the company.
If Grenier is the poster boy for fame and fortune, Kevin Connolly is arguably the real star of the story as the best friend and brain trust Eric, a manager in everything but name whose streetwise smarts and unflinching loyalty make him a match for Vinnie's instinctively abrasive and casually offensive super-agent Ari Gold (Jeremy Piven). The entourage is rounded out by Kevin Dillon as Chase's half-brother, the struggling bit player Johnny Drama, and Jerry Ferrara as the easy-going go-fer Turtle, happy to takes his place at the bottom of the pecking order as long as he gets his share of the sexual spill-off from the throngs of women Vincent attracts.
The HBO comedy series gives off an insider's vibe mixed with street smarts and wry observations of relationship politics as it surveys the Hollywood subculture of stars and their posses and the tricky dynamics that fame, money, and status bring to old friendships as they become part of the star's support network.
It also plays the whole trip as a testosterone fantasy of fame, wealth, sex, and surface risks with little on the line but easy money and temporary reputations. Vinnie rises to the top with his own superhero film ("Aquaman," with guest star James Cameron as the director), trips up with an ambitious, self-produced epic about the rise and fall of the infamous Latin American drug lord that flops spectacularly, and recovers when Martin Scorsese casts him in his new project. Meanwhile Eric stakes out his claim as a professional manager, Johnny searches for his own project, and Turtle makes a play to start his own business. Would you believe that Vinnie's golden touch rubs off on them all?