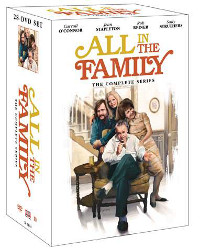 All in the Family: The Complete Series (Shout! Factory) collects all nine seasons Norman Lear's taboo-breaking, trend-setting sitcom, a genre that even at its best avoided ruffling any feathers back in the day. Lear had no such inhibitions. Adapting the British sitcom "Till Death Do Us Part" into the American vernacular of the 1970s, he turned American TV and the family sitcom format on its ear, tackling politics, racism, chauvinism, hypocrisy, and the American Dream with a vengeance, and creating Archie Bunker (Carroll O'Connor), America's favorite bigot. In this dysfunctional family, blue collar conservative father didn't know best, mother is a daffy but goodhearted dingbat (Jean Stapleton), and their little girl Gloria (Sally Struthers) is a liberated liberal married to a college intellectual (Rob Reiner) constantly bickering with dear old dad, who not-so-affectionatel​y refers to him as Meathead.
Later season introduced Edith's Cousin Maude (Beatrice Arthur) and next-door neighbor George Jefferson (Sherman Hemsley), both of whom spun-off into their own Lear-created sitcoms, brought in Sammy Davis Jr. as a guest star (in an Emmy-winning episode), added former blacklisted actress Betty Garrett to the cast, and tacked such issues as interracial romance ("Lionel Steps Out"), hate crimes ("Archie Is Branded"), sexual assault ("Gloria the Victim"), and breast cancer scare ("Edith's Christmas Story"), among others. By the ninth season, Archie Bunker had mellowed as America's favorite bigot and he and Edith essentially adopted the nine-year-old daughter of Edith's cousin, which in the parlance of TV culture is the "jump the shark" moment of the series, but the show still tackled serious issues, including the separation of Mike and Gloria (in a one-hour special). The final season also features the 90-minute "200th Episode Special," a retrospective hosted by Norman Lear.
213 episodes on 28 discs in a box set of five-disc box set, plus a bonus disc with a new interview with Norman Lear, the documentaries "Those Were the Days: The Birth of All in the Family" and "The Television Revolution Begins: All in the Family is On the Air," the two original unaired pilots, plus the pilots to spin-off  shows "Gloria," "Archie Bunker's Place," and "704 Hauser," and a 40-page booklet with essays by Pulitzer Prize–winning TV critic Tom Shales and USC Media Professor Marty Kaplan and a complete episode guide.