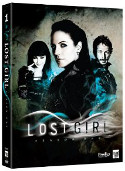 The Canadian fantasy series "Lost Girl: Season One" (Funimation) debuted up north in 2010 and only recently arrived stateside on SyFy, where it joined another (and better) shot-in-Toronto series of supernatural beings in the modern world, "Being Human." This one falls into more familiar genre conventions. The lost girl of the title is Bo (Anna Silk), a beautiful succubus who feeds on humans — not blood, but energy, life force, chi, whatever you want to call it — but only discovers the truth of her legacy in the first episode, when the Fae world tries to bring her into the fold. The Fae live hidden among the humans, divided between light and dark and keeping an uneasy détente with a strict set of rules. Bo refuses to choose sides. Instead, she partners with a young human thief named Kenzi (Ksenia Solo) and becomes an independent operator, a kind of private detective for the magical world.
The show follows a familiar formula, borrowing from such shows as "Buffy the Vampire Slayer," "Angel," "True Blood," and Canada's own "Forever Knight," without adding anything distinctive of its own. Anna Silk makes for a striking and charismatic leading lady and her playful partnership with Kenzi provides the show's defining relationship (their loyalty contrasts with the politics and conflicts within the Fae community). The rest plays like a police procedural / detective show with magical creatures and supernatural conspiracies, something the "Grimm" does much more creatively, on a budget that makes it look quite generic.
13 episodes on Blu-ray and DVD, with extended versions featuring footage not seen on American TV, plus brief interview and behind-the-scenes clips (some running under 30 seconds, which makes it quite inconvenient to manually go through them all; hey guys, ever heard of editing?).