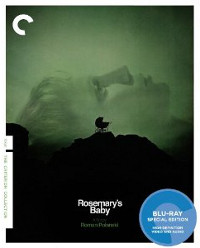 "Rosemary's Baby" (Criterion), Roman Polanski's American directing debut and one of the most celebrated American horror films of all time, debuts in a newly remastered, director approved edition form Criterion.
But horror isn't really the right description for this film. Yes, it is about a cabal of devil worshippers in modern day (circa late 1960s) and an innocent served up to bear Satan's child, but Polanski is less interested in terror and shock than in creating a mood of paranoia and instability.
He finds the eerie in the mundane, often just by unsettling viewers with images slightly out of off-balance or framing characters just outside of our vision, or by distorting the soundtrack in conversations, phone calls, or simply the muffled sounds from the other side of the wall. Polanksi also wrote the screenplay, faithfully adapting Ira Levin's novel, and he proves to have a great ear for American dialogue that is at once banal, blackly comic, and intimidating.
Polanski's casting and direction of actors is superb. Mia Farrow is frail and pixie-ish as Rosemary, deteriorating into a ghoulish pallor as her pregnancy progresses, while John Cassavetes becomes uncomfortably hectoring, dominating, and dismissive of her growing anxiety. Ruth Gordon earned an Oscar playing a caricature of a nosy old lady with a curdled soul behind her motherly façade.
But for all the bleary, drug-smeared visions of the beast, the most terrifying monsters here are human. He finds the banal face of evil in the eccentric American gargoyles that populate the funky old apartment building (the real-life New York landmark The Dakota stood in for the exteriors), hiding their brutal conspiracy behind a mask of neighborly affection.