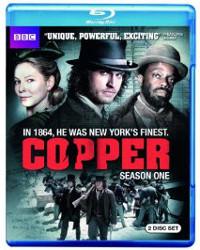 "Copper: Season One" (BBC), the first original drama created for BBC America, mixes the historical crime show template so successful in Britain with the provocative period dramas proliferating on American cable. This one plays out in Civil War-era New York City, where Detective Kevin Corcoran (Tom Weston-Jones) and his loyal partners fight crime in the slums and in the halls of power while dodging the rampant corruption in the police department.
Corcoran is a Civil War veteran who returned home to find his daughter dead and wife gone, and he's come back with friends: Robert Morehouse (Kyle Schmid), son of a rich entrepreneur who is looking to buy up the Five Points cheap, and Doctor Matthew Freeman (Ato Essandoh), the African-American doctor who saved their lives on the field and secretly works as New York's first forensic pathologist.
Despite the BBC America brand, it's more American and British. Created and produced by Tom Fontana (of "Homicide" and "Oz") and Will Rokos ("Southland") and shot in the U.S., it's a crime show in the American vernacular, with a small-scale recreation of 1864 New York on a tight budget. Mostly it's muddy slum streets and dwellings in the Five Points area, contrasted with the high-society interiors of the affluent and hypocritical, and it all mixes in the bordellos where the high and low meet. Franka Potente co-stars as the brothel manager (and Corcoran's sometime girlfriend) Eva.