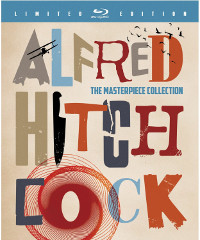 "Alfred Hitchcock: The Masterpiece Collection" (Universal)
It is a Hitchcock Renaissance!
"Vertigo" was anointed the Greatest Film Ever Made by the Sight and Sound poll this summer. "The Birds" was remastered and rereleased nationwide in both digital and 35mm screenings. "The Girl," about Hitchcock's obsessive, domineering relationship with actress Tippi Hedren, premiered on HBO a couple of weeks ago, and "Hitchcock" a big screen drama about the making of "Psycho" with Anthony Hopkins as Hitch, Scarlett Johansson as Janet Leigh, and Helen Mirren as Hitch's wife and longtime collaborator Alma Reville, opens on Thanksgiving weekend.
Whether it's cagey planning or kismet (or a combination of both), it's perfect timing for Universal to release its Blu-ray box of 15 Hitchcock films, 13 of them in their HD debut. They're not all masterpieces in "The Masterpiece Collection," but as they are all from the Master of Suspense, they all  have their merits, and all are packed with supplements carried over from previous DVD releases. Here's the line-up, which is almost identical to the earlier DVD set of the same name:
"Saboteur" (1942), a coast-to-coast chase with Robert Cummings; "Shadow Of A Doubt" (1943), Hitch's personal favorite, with Joseph Cotten as the charming "Merry Widow Killer"; "Rope" (1948), Hitch's bold long take experiment; "Rear Window" (1954), with James Stewart and Grace Kelly; "The Trouble With Harry" (1955), a cheeky autumnal comedy; "The Man Who Knew Too Much" (1956), a remake of his early British hit; "Vertigo" (1958); "North by Northwest" (1959), the smoothest of Hitch's romantic thrillers; "Psycho" (1961), once notorious, now celebrated; "The Birds" (1963), his memorable contribution to the "animals attack" genre; "Marnie" (1964), a chilly vision of psychosis and domination; "Torn Curtain" (1966) is chilly look at cold war espionage; "Topaz" (1969), his attempt at a modern international espionage thriller; "Frenzy" (1972), his return to England; and his final film "Family Plot" (1976) is an easy, breezy thriller. Only "North by Northwest" and "Psycho" have been previously available on Blu-ray. Details on each film are below, after some initial notes.