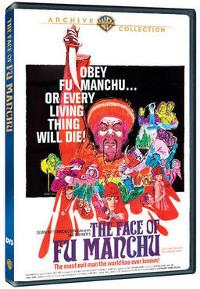 There is nothing tasteful about a Fu Manchu movie. The stories of a ruthless, sadistic, depraved Mandarin crimelord, originally created in a series of lurid pulp thrillers by Sax Rohmer in the 1910s, traffic in a jingoistic fear of Asian assault on western culture (especially the empire-building Britania). Fu Manchu is a criminal genius with three doctorates, a passion for assassination by exotic poison, and an obsessive quest for world domination. And he has been, since the beginning, played by Caucasian actors in silk robes, long-mustaches, and what can only be called yellowface make-up.
Dr. Fu Manchu returned with a vengeance in the 1960 in a series of lurid British thrillers from Harry Alan Towers, a British writer/producer cashing in on the Hammer success with his own low-budget thrillers and horror films, and starring Christopher Lee as the insidious Dr. Fu Manchu.
In the 1965 The Face of Fu Manchu (Warner Archive), the first of five Fu Manchu features from Towers and Lee and the character's first big official screen appearance since 1940, he kidnaps a brilliant scientist, forces him to turn over his latest, potentially destructive invention by means of torture (usually of a beautiful young daughter), and then holds the world ransom. That basic structure recurs in the sequels, just as it drove many a James Bond film and a couple of Pink Panther sequels and Austin Powers movies.
Not that anyone watched these films for their plots. The film opens on Fu Manchu's own execution, a scene right out of Hammer Films' The Revenge of Frankenstein. Clearly this is not the end of Fu Manchu, who returns for his revenge with a literal underground kingdom beneath the streets of London, a fanatically devoted cutthroat army in black pajamas and red sashes (part Viet Cong, part Playboy After Dark), and a small private zoo of poisonous spiders and deadly snakes.