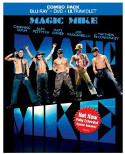 New Releases:
"Magic Mike" (Warner), from director Steven Soderbergh and actor Channing Tatum, turns Tatum's early experiences as a male stripper into a terrific drama of big dreams and easy compromises in a culture of tawdry glamour, street hustle, and working class desperation. It's one of the success stories of 2012, a character drama with some superb characters, a terrific, grown-up romance, and a bunch of good-looking guys stripping down to g-strings. Blu-ray, DVD, and On Demand. Videodrone's review is here.
Steve Carrell is "Seeking a Friend for the End of the World" (Focus) during the last days of life on Earth and Keira Knightly signs on for his final road trip in the comedy by Lorene Scafaria. Blu-ray, DVD, and On Demand.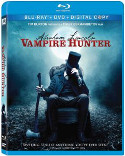 "Abraham Lincoln: Vampire Hunter" (Fox), based on the tongue-in-cheek bestseller and directed by Russian action-fantasy specialist Timur Bekmambetov, reimagines the backstory of the American president as a… well, the title pretty much sums it up. Blu-ray, Blu-ray 3D, DVD, and On Demand.
"Take This Waltz" (Magnolia) is a bit more serious, a romantic drama from Sarah Polly starring Michelle Williams and Seth Rogan. Blu-ray and DVD. And "Tyler Perry's Madea's Witness Protection" (Lionsgate) pairs Madea (Tyler Perry) up with Eugene Levy. Blu-ray, DVD, On Demand, and at Redbox.
Also new: the foreign drama "The Slut" (Strand) from Israel (DVD only) and the documentaries "The Invisible War" (Docurama), Kirby Dick's exposé of rape in the military (DVD only), and "The Ambassador" (Drafthouse), which uses gonzo journalism tactics to expose corruption in international politics.
Browse the complete New Release Rack here
TV on Disc:
"Law & Order: Criminal Intent – Season Eight" (Universal), the spin-off starring Vincent D'Onofrio as the brilliant but troubled Detective Goren, adds a new detective to the squad: Jeff Goldblum as another eccentric genius. 15 episodes on four discs, DVD only. Videodrone's review is here.
"The Ernie Kovacs Collection: Volume 2" (Shout! Factory) is  three disc set featuring more of the television work of the great TV innovator, including episodes of his NBC morning show and his offbeat quiz series "Take a Good Look," plus bonus sketches and rarities. DVD only.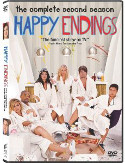 "Happy Endings: The Complete Second Season" (Sony), the hit young adult sitcom, offers more romantic shenanigans from best friends and lovers Elisha Cuthbert, Zachary Knighton, Damon Wayans Jr., Eliza Coupe, Adam Pally, and Casey Wilson. 21 episodes on two discs. DVD only.
"Upstairs Downstairs: Season Two" (BBC), the British reboot of the legendary seventies series, carries on through to World War II with six episodes on two discs. DVD only.
Plus the documentary shows "Great Museums" (PBS) and "Disasters Deconstructed" (History) and more from "Fantasy Island: The Complete Third Season" (Shout! Factory) and "Perry Mason: Season 7 Volume 2" (Paramount). All DVD only.
Flip through the TV on Disc Channel Guide here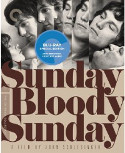 Cool and Classic:
"Sunday Bloody Sunday" (Criterion) was John Schlesinger's first film after "Midnight Cowboy" and the most personal film of his career, an intimate, compassionate story of a romantic triangle with two middle-aged divorcees (Glenda Jackson and Peter Finch) sharing a handsome young artist (Murray Head) who flits between them. Criterion releases the Oscar-nominated film on Blu-ray and DVD with new and archival interviews. Videodrone's review is here.
"Fear and Desire" (Kino), the first feature from Stanley Kubrick, has been largely unseen since its release, in large part because Kubrick didn't want it seen. It's been  restored for Blu-ray and DVD and arrives mostly as a curiosity, an arch, imperfect, ambitious war drama from a young director who would become one of the great perfectionists of the cinema. Also features his 1953 documentary short "The Seafarers."
"Secret of the Wings" (Disney) is Disney's direct-to-disc computer animated Tinker Bell feature. Blu-ray, Blu-ray 3D, and DVD.
From the manufacture-on-deman​​d stream comes the 1932 racing drama "The Crowd Roars" with James Cagney, "Hamlet" with Nicol Williamson, "Born to be Bad" with Joan Fontaine, and more. See the MOD Movies roundup here.
All of the Cool and Classic here

Blu-ray Debuts:
Blade Runner 30th Anniversary Collector's Edition" (Warner) features the original 1982 theatrical version of the film, Ridley Scott's 2007 "The Final Cut" (his preferred version of the film, including newly-shot footage to replace compromised scenes), and three other variant cuts of the film, plus an epic documentary and lots of supplements. Available in a 3-Disc Blu-ray set and a 4-Disc Collector's Edition. Videodrone's review is here.
"The Penalty" (Kino) is a 1920 gangster thriller with horror elements starring Lon Chaney as a crippled criminal mastermind plotting his revenge against the doctor who crippled him. Newly remastered from a restored print.
Mill Creek begins rolling out Blu-ray debuts of films from the libraries of Columbia, Touchstone, and Hollywood Pictures in bargain-priced double features. "Billy Bathgate"/"Blaze" (Mill Creek) and the sci-fi monster movie double feature "Deep Rising"/"The Puppet Masters" (Mill Creek) lead off the first wave of releases.
Peruse all the new Blu-rays here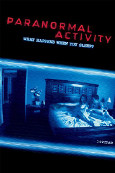 New on Netflix Instant:
No surprise that there are plenty of horror films newly available as Halloween approaches. "Paranormal Activity 3" (2011) arrives as the fourth installment is in the theaters and "Intruders" (2011) stars Clive Owen as the father of children tormented and assaulted by a supernatural figure called Hollow Face.
Going back a few years, there is "Zombies of Mass Destruction" (2009), a very funny zombie gore farce with pointed social satire and punctured political rhetoric, the ghost story "Lake Mungo" (2009) from Australia, the monster movie western "The Burrowers" (2008), and the European "Grimm Love" (2006), inspired by a real-life event.
Also new are Oscar nominated films "Hotel Rwanda" (2004) with Don Cheadle and the animated "Chico & Rita" (2011).
Arriving in conjunction with the disc release is the documentary "The Ambassador," and the psychological thriller "The Woman in the Fifth" (2011) arrives weeks after its disc debut.
New on Instant TV is "Touch: Season 1," with Keifer Sutherland as the father of child who sees patterns in the universe and communicates through numbers.
Browse more Instant offerings here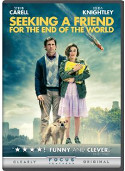 New On Demand:
"Magic Mike," the indie underdog hit with Channing Tatum as a male stripper, and the comedy "Seeking a Friend for the End of the World" with Steve Carell and Keira Knightly headline the New Releases this week. Also arriving same day as disc is the horror comedy "Abraham Lincoln: Vampire Hunter," "Tyler Perry's Madea's Witness Protection," and the documentary "The Invisible War."
Arriving On Demand the same day as theaters is the family comedy "Fat Kid Rules the World" and arriving before theaters is the action thriller "Universal Soldier: Day Of Reckoning" with Jean-Claude Van Damme and Dolph Lundgren.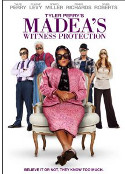 Available from Redbox this week:
Available say and date with video stores is "Tyler Perry's Madea's Witness Protection" (Lionsgate).
Also arriving in Redbox kiosks this week: the action drama "Soldiers of Fortune" and the indie drama "After the Wizard."