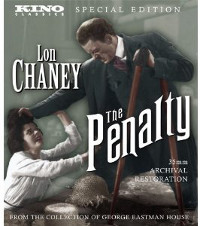 The Penalty (Kino), a 1920 crime thriller with elements of horror, presents Lon Chaney as San Francisco underworld despot Blizzard, an embittered criminal mastermind driven to vengeance after incompetent doctor amputates his legs as a youth. Chaney strapped his legs into a painful leather harness to play a double-amputee and he scrambles through the city on stubs of legs and crutches like a human spider, weaving his criminal web across San Francisco. The busy plot involves the doctor's daughter, a young sculptress who hires Blizzard as her model for a statue of Satan, and an undercover female police agent who infiltrates the gang and falls in love with Blizzard. Meanwhile he terrorizes his underlings, murders traitors, and concocts a double-barreled plot that will bring both the city and the doctor (now an honored physician) to their knees.
Director Wallace Worsley (who later directed Chaney in "The Hunchback of Notre Dame") drives the film with rapid pace and an energetic crosscutting style and creates a wicked atmosphere of corruption and murder with his bizarre touches of sexual menace and sadism. But it's Lon Chaney who contributes the most to the atmosphere with his defining physical incarnation of Blizzard, scrambling up walls and down secret tunnels on elaborate handholds and chains and leering at potential victims with the vicious grin of a human demon.
Previously available on DVD, the Blu-ray features a newly-remastered edition of the film from a 35mm restoration by the George Eastman House with terrific sharpness and detail, with tints (which are a little too rich, but that's a minor quibble) and a new compilation score by Rodney Sauer performed by the Mont Alto Motion Picture Orchestra.
Supplements include the 1914 one reel western "The Miracle Man," surviving footage of Chaney's lost 1919 film "The Miracle Man," a video tour of Chaney's makeup case and the "double amputee" costume worn in "The Penalty," and trailers from Chaney's "The Big City" and "While the City Sleeps."