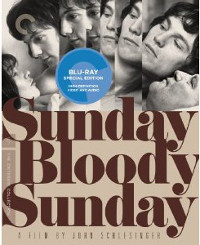 Sunday Bloody Sunday (Criterion) was John Schlesinger's first film after "Midnight Cowboy" and the most personal film of his career, an intimate, compassionate story of a romantic triangle with two middle-aged divorcees (Glenda Jackson and Peter Finch) sharing a handsome young artist (Murray Head) who flits between them. It's a quiet and powerful film and, despite the provocative language of the title, one without explosive sparks. This is about the slow, internal smolder of love and anxious yearning and the compromises we all make for love and companionship, physical and emotional.
Glenda Jackson is superb as the seemingly modern career woman with a sharp intelligence and a tart sense of humor and Finch even more touching as a gay man in early seventies London, a culture still very hostile to homosexuality. The film's presentation of a loving romantic and sexual relationship between two men in the same naturalistic terms as a heterosexual romance was unprecedented for its time, at least in a mainstream movie. Finch's quiet performance makes Bob a man first and a gay man second, a defining feature of the character without becoming the defining feature, and the physical and emotional intimacy between Finch and Head is presented with the same easy natural quality as the relationship between Jackson and Head: an enormous accomplishment for the time. The film earned Academy Award nominations for Schlesinger's direction, Gilliat's screenplay, and actors Peter Finch and Glenda Jackson, and it won five BAFTA awards, including Best Actor, Best Actress, Best Direction, and Best Film.
Criterion releases the Oscar-nominated film on Blu-ray and DVD in a newly remastered edition supervised by cinematographer Billy Williams. It features the 23-minute video essay "On Sunday Bloody Sunday" by Schlesinger biographer William J. Mann, new interviews by co-star Murray Head (7 minutes), cinematographer Billy Williams (13 minutes), production designer Luciana Arrighi (9 minutes), and Michael Childers, Schlesinger's partner of many years (7 minutes), and an archival audio interview with Schlesinger from 1975. The accompanying booklet features a new essay by cultural historian Ian Buruma and an archival essay by Penelope Gilliatt.