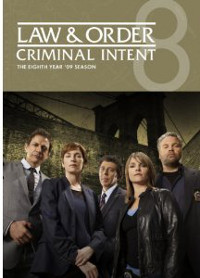 Law & Order: Criminal Intent – The Eighth Year (Universal) opens like pretty much any other season, with Vincent D'Onofrio's Detective Goren and Kathryn Erbe's Detective Eames following a murder case to a political family with dirty little secrets, but the second episode brings in a new player and a whole new chemistry.
Jeff Goldblum wanders into episode two like an alien, arriving to a crime scene with a big smile on his face, bags full of food in his hands, and a breezy attitude that immediately puts off Detective Wheeler (Julianne Nicholson), a veteran of the squad (and the show) who is a little low on trust, thanks to losing her old partner (farewell, Mike Logan, we'll miss you) and her fiancé in the previous season.
Detective Zach Nichols is a terrific Goldblum creation, entering every conversation with a banter that bounces around like a bebop solo and veers off in sudden zig-zags before circling back to the case, keeping his subjects off balance while he lobs them with questions. He's the son of psychiatrist parents (unseen this season but keep an eye out for a guest shot in season nine) and he has his own style, which makes him an interesting contrast to the more intense and obsessive Goren. And, frankly, more fun. Nichols seems to enjoy his work, even as he keeps frustrating Wheeler with his unconventional methods. It's not just the suspects he manages keep of balance with his methods.