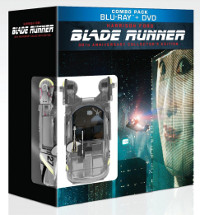 Blade Runner 30th Anniversary Collector's Edition (Warner) – In 2007, 25 years after Ridley Scott's visionary reworking of Philip K. Dick's novel flopped at the box office (and was subsequently reborn as one of the preeminent cult movies of the past three decades), Scott delivered what he promises is his final take on the compromised classic.
The setting is the near future, where the only escape from a planet-wide urban blight is the promise of the off-world frontier advertised on ever-present floating billboards, but five Replicants (slave clones with genetically stamped short shelf lives) have returned to Earth in search of themselves. Harrison Ford is a throwback to the classic Hollywood P-I in a futuristic film noir, a rumpled loner detective sent to hunt down escaped Replicants in the polyglot cultural stew of the rain-slicked streets in the ground-level slums. Much of PKD's original story is discarded, but the densely realized street subculture looks more prescient than ever, and Scott's sensibility turns the pulp story into a dystopian odyssey.
The original release featured dreary voice-over narration and a happy ending that made hash of the whole polluted planet premise, and the original VHS home video release featured the longer, international cut of the film. A workprint discovered in 1990 (and briefly released before Scott pulled it back) inspired a 1991 "Director's Cut" version, sans the narration and happy ending and featuring a unicorn dream. But that was still a compromise version, as far as Scott was concerned, and he came back one more time for "The Final Cut," a definitive version full of minor adjustments (with subtle reverberations) and major corrections (Scott reshot the death of Zhora to get rid of a glaringly unconvincing body double), and the digital enhancements both refine the special effects and deliver a sparkling image. The remixed sound adds more density to the experience.