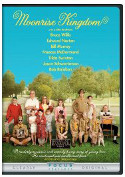 New Releases:
"Moonrise Kingdom" (Universal) is, to my mind, Wes Anderson's finest film to date. After a career chronicling the arrested adolescence and dysfunction of adults, he finally makes a film about actual adolescents and adults in their lives, and offers his most eccentrically human characters to date. It's funny, it's playful, it's full of nostalgic blasts and period trappings, but most of all it is loving of all the characters, failings and all. Bill Murray, Frances McDormand, Edward Norton, Tilda Swinton, and Bruce Willis fill out the adult cast. Blu-ray, DVD, and On Demand. Videodrone's review is here.
"Madagascar 3: Europe's Most Wanted" (Paramount), the third film in the animated franchise of zoo animals in the wild, sends the goofy quartet on a circus adventure through Europe. "[T]his European adventure grabs you up for a brightly colored, fast-action odyssey full of energy and pizzazz — and never lets go," promises MSN film critic Kat Murphy. Blu-ray, Blu-ray 3D, DVD, and On Demand, also available at Redbox. Reviewed on Videodrone here.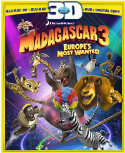 "The Forgiveness of Blood" (Criterion), Joshua Marston's follow-up to his acclaimed "Maria Full of Grace," takes on story of a clan feud in Albania that pulls a brother and sister into the violence. Blu-ray and DVD.
"That's My Boy" (Sony), another of Adam Sandler's brash, braying, raunchy comedies, and the handheld horror film "Chernobyl Diaries" (Warner), about Americans in an abandoned town in Russia, are two of the worst-reviewed films of the year. And they're available on Blu-ray, DVD, and On Demand.
The gritty Australian drama "Last Ride" (Music Box), starring Hugo Weaving a criminal who drags his son on his run from the cops, arrives on DVD only.
The droll French murder mystery "Nobody Else But You" (First Run) leads off the foreign releases this week and the non-fiction releases include "2016: Obama's America" (Lionsgate), Dinesh D'Souza's anti-Obama screed, and Jonathan Demme's concert film "Neil Young Journeys" (Sony).
Browse the complete New Release Rack here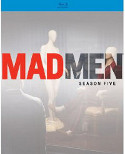 TV on Disc:
"Mad Men: Season Five" (Lionsgate), arguably the best season to date of one of TV's best shows, finds the stress of keeping the prestigious but struggling new advertising firm on Madison Avenue afloat taking its toll on the partners and Don's marriage. Blu-ray and DVD, 13 episodes plus commentary and featurettes. Videodrone's review is here.
"Touch: Season One" (Fox), created by Tim Kring of "Heroes," stars Keifer Sutherland as the father of child who sees patterns in the universe and communicates through numbers. He's almost as intense as Jack Bauer as he tries to follow his son's trail of numbers. 13 episodes on DVD. Reviewed on Videodrone here.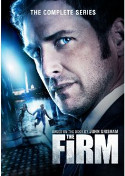 "The Firm: The Complete Series" (eOne), starring Josh Lucas as a lawyer hunted by the mob, and "Alcatraz: The Complete Series" (Fox), a pseudo-supernatural series from producer J.J. Abrams, offer every episode of two shows that never made it past the 2011 TV season.
"Columbo: The Complete Series" (Universal) collects all 69 episodes and 24 TV movies starring Peter Falk as the cigar-chomping, eternally disheveled L.A. police detective, Lt. Columbo, in a 34-disc DVD box set.
Plus the British high school drama "Waterloo Road: Series 1" (Acorn), "Check It Out! With Dr. Steve Brule: Seasons 1 & 2" (Warner) with John C. Reilly, the vintage "Mr. Lucky: The Complete Series" (Timeless Media Group) from Blake Edwards, 1998 British mystery "The Ice House" (BBC) with Daniel Craig, and a small trove of Christmas telefilms old and new.
Flip through the TV on Disc Channel Guide here

Cool and Classic:
"Letter From an Unknown Woman" (Olive) is one of the most devastating romantic tragedies ever made in Hollywood. Directed by Max Ophuls (who was credited as Opuls on his American movies), it stars Joan Fontaine (in one of the best performances of her career) as a gawky young Viennese woman hopelessly enthralled by dashing pianist Louis Jordan, a genial but callow bon vivant. This elegant, lovely drama makes its long-awaited stateside debut on Blu-ray and DVD. Reviewed on Videodrone here.
Jules Dassin directs "Uptight" (Olive), the 1968 remake of "The Informer" set in the culture of black militants after the assassination of Martin Luther King, with Raymond St. Jacques, Ruby Dee, Roscoe Lee Browne, and Julian Mayfield in the Victor McLaglen role. Blu-ray and DVD.
"Three Secrets" (Olive), directed by Robert Wise, is a 1950 melodrama of three women (Eleanor Parker, Patricia Neal, and Ruth Roman) awaiting news that could reveal hidden pasts. "Slender Thread" (Olive), a drama of suicide and outreach with Sidney Poitier and Anne Bancroft, is the feature film debut of director Sydney Pollack, and "The Sterile Cuckoo" (Olive), with Liza Minelli, is Alan J. Pakula's directorial debut. All Blu-ray and DVD.
"Exorcism" (Kino) and "Female Vampire" (Kino), a pair of Jess Franco erotic horrors from the seventies starring his muse Lina Romay, arrive in Blu-ray and DVD in new editions with alternate versions of each film.
All of the Cool and Classic here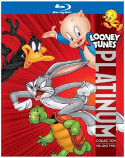 Blu-ray Debuts:
"Looney Tunes Platinum Collection, Volume Two" (Warner) follows up Volume One with the HD debut some of the best Warner Bros. cartoons (including Chuck Jones' "Hunting Trilogy" with Bug Bunny and Elmer Fudd, plus early appearances, rarities, oddball supporting characters, one-shots, and some non-Warner cartoons by Tex Avery and Friz Freleng. 50 animated shorts, plus featurettes, interviews, and commentary, on three discs. Also available on two-disc DVD without many of the extras. Videodrone's review is here.
"Gone in 60 Seconds" (Halicki Films), the ultimate drive-in car chase movie created by stunt driver turned director H.B. Halicki, is a masterpiece of stunt driving and action mechanics. It debuts on HD in a Blu-ray plus DVD Combo Pack, along with featurettes and interviews. And if you like the film, enter our contest to win a copy of the original 1974 poster!
"Ella Enchanted" (Lionsgate) stars Anne Hathaway as a different kind of Cinderella in a playful twist on the fairy tale that both spoofs it while retelling it from a fresh angle.
"A League of Their Own" (Sony), the 1992 sports drama set in the All-American Girls Baseball League formed in World War II, arrives as an Amazon Exclusive.
Also new: the 1977 "Pete's Dragon" (Disney) with Helen Reddy, Mickey Rooney, and an animated dragon, "Everybody's Fine" (Lionsgate) with Robert DeNiro, the eighties horror films "Terror Train" (Shout! Factory) and "The Funhouse" (Shout! Factory), and the 2004 PBS documentary series "Broadway: The American Musical" (PBS).
Peruse all the new Blu-rays here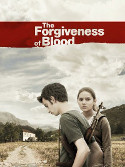 New on Netflix Instant:
"The Forgiveness of Blood" (2011), a drama of a clan feud in modern Albania, arrives the same week as the disc debut on Criterion.
"Hana and Alice" (2004) is a sweet Japanese drama of two high school best friends who drift apart as they follow their own destinies from Shunji Iwai and "The Hedgehog" (2009) is a French character piece about the inhabitants of an apartment building, from the luxury apartments above  to the concierge (the hedgehog of the title) below.
Arriving weeks after disc is "Beyond the Black Rainbow" (2010), a hallucinatory low-budget thriller, and Bertrand Tavernier's 1980 "Deathwatch" (1980), an introspective science fiction drama with Harvey Keitel and Romy Schneider.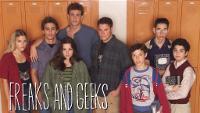 On Instant TV comes one of the best shows from the past two decades: "Freaks and Geeks: The Complete Series" (1999), the sharp, funny, surprisingly poignant, and criminally short-lived high school dram-edy (for lack of a better word) from creator Paul Feig and executive producer Judd Apatow. Their college follow-up, "Undeclared: The Complete Series" (2001), is also available.
For a much bigger scope, J.J. Abrams' conspiracy spy show "Alias: Seasons 1-5" with Jennifer Garner as TV's sexiest double agent. And now that its last season has ended, you can find "CSI: Miami – Seasons 1-10," though I'm not sure why you'd want to.
And for season catch-ups, there's "Glee: Season 3," "Hart of Dixie: Season 1," "Gossip Girl: Season 5," "Nikita: Season 2," and the sitcoms "30 Rock: Season 6," "The Office: Season 8," "Raising Hope: Season 8," and "The Cleveland Show: Season 3."
Browse more Instant offerings here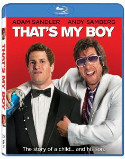 New On Demand:
Arriving the same day as disc is my pick of the week "Moonrise Kingdom" from Wes Anderson and the animated sequel "Madagascar 3: Europe's Most Wanted," plus "That's My Boy" with Adam Sandler, the horror film "Chernobyl Diaries," the concert movie "Neil Young Journeys," and the anti-Obama screed "2016: Obama's America."
Arriving On Demand before theaters is "All Together," a comedy with Jane Fonda and Geraldine Chaplin, and "The Comedy," which is actually an indie drama with Tim Heidecker and James Murphy.
Available from Redbox this week:
Arriving day and date with video stores is the animated "Madagascar 3: Europe's Most Wanted" (Paramount), the Adam Sandler comedy "That's My Boy" (Sony), and the anti-Obama screed "2016: Obama's America" (Lionsgate).
Also arriving in Redbox kiosks this week: "Rock of Ages" (Warner), reviewed on Videodrone last week, and "The Best Exotic Marigold Hotel" (Fox) (reviewed on Videodrone here), both on Blu-ray and DVD.