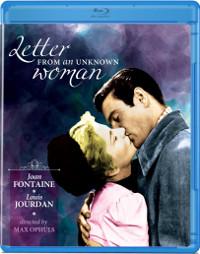 Letter From an Unknown Woman (Olive) was the second Hollywood film by European émigré Max Ophuls (who was credited as Opuls on his American movies), but his first American masterpiece, and he invests this exquisitely stylish romantic melodrama (based on a novel by Stefan Zweig) with his continental sensibility.
"By the time you read this letter, I may be dead," reads aging bon vivant Louis Jordan from a letter found in his tiny hotel room. Hair tousled and tux tired from yet another night of meaningless flirtation, he's startled by these opening lines and suspends his preparations to flee a duel to read the history of a love affair that he can't remember. For the rest of the film we're transported to the life of Joan Fontaine's awkward young Viennese woman, hopelessly enthralled by the dashing pianist from adolescence and momentarily his lover, the emotional pinnacle of her life but for the philandering rogue simply another fling in a blur of women passing through his bedroom.
Fontaine delivers one of the best performances of her career, vulnerable and yearning without lapsing into sentimentality and ultimately showing a hidden strength as she risks all for one more moment with the love of her life. Jordan is genial and callow, an empty figure faced with the meaningless of his life and shamed with self discovery. Meanwhile Ophuls' endlessly moving camera tracks, cranes, and circles around the characters while maintaining a measured distance, offering a privileged view of intimacy that captures both her life-defining rapture and his momentary engagement. It's a sensibility more European than American, right down the empty gesture that concludes this sad melodrama, but it's also a transition to making films in the American vernacular.
Ophuls only made four films in America. This is the first to make its long-awaited stateside debut on Blu-ray and DVD. No supplements.