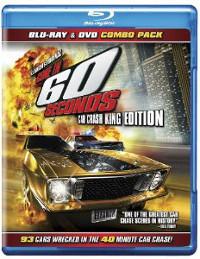 Gone in 60 Seconds (Halicki Films) is the ultimate drive-in car chase movie. If that sounds like a backhanded compliment, then you don't know the sheer visceral thrill of a great car crunching, tire squealing, speed demon piece of auto outlaw cinema. Writer / producer / director / star / stunt driver H.B. Halicki is all thumbs when it comes to directing his non-professional cast, but he's a natural performer and has a confident efficiency in showing the mechanics of the car theft biz. All that, of course, is mere framework for the film's famous 40-minute car chase finale as his vehicle, a souped-up yellow 1973 Ford Mustang Mach 1 named Eleanor, gets banged, bashed and smashed into a crinkled wreck. It's a masterpiece of stunt driving, driver's seat photography, and sharp, spirited editing, and more fun than it has any right to be.
The new Blu-ray+DVD Combo Pack features the revved up sound design and new score added to the 2000 DVD and the supplements of both DVD special editions: a laid-back, homey commentary with editor Warner Leighton and cinematographer Jack Vacek (who are especially helpful in pointing out where mishaps and real accidents were incorporated into the finished film), a 45-minute documentary on H.B. "Toby" Halicki" originally made for the Speed channel, three featurettes on Halicki's subsequent films (both completed and unfinished), interviews with Denise Halicki (from the set of the 2000 remake of "Gone in 60 Seconds") and Lee Iacocca, and more.
MSN is also sponsoring a poster giveaway: Halicki Films is offering two original 1974 movie posters of the film. Read on for details on how to enter.