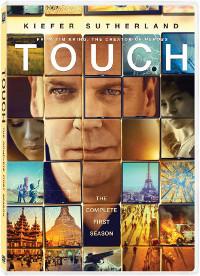 Touch: The Complete First Season (Fox), created by Tim Kring of "Heroes," stars Keifer Sutherland as Martin Bohm, a former investigative reporter reduced to blue collar jobs after losing his wife in the September 11 attacks and dedicating himself to caring for his possibly-autistic son.
Jake (David Mazouz) doesn't speak (though he does narrate the show) and doesn't like to be touched, but it becomes clear that he sees complex patterns in the world and communicates through numbers that connect seemingly unconnected events and people in a web of relationships and meanings. The scripts combine Martin's efforts to reach his son through the trail of numbers with stories spread across the globe, all coming together by the end of each episode in unexpected, sometimes contrived, usually heartwarming ways. Sort of like "Lost" meets "Crash," but with a real attempt at emotional sincerity.
It's six degrees of separation collapsed into direct links in metaphysical short-circuits engineered by Jake, with the fiercely dedicated Martin almost as intense as Jack Bauer as he follows his son's leads, reaches out to help people in crisis, and come that much closer to his isolated son. It makes the show a very curious (and actually kind of interesting) mix of metaphysics, secular mysticism, corporate conspiracy, and feel-good family drama, with a dash of Kabala tossed in toward the end of the season.
Gugu Mbatha-Raw co-stars as the social worker who joins forces with him to follow the clues and heal the universe, one crisis at a time and Maria Bello guest stars in the two-part season finale as a woman following a similar path destined to cross with Martin and Jake.
13 episodes on DVD, including an extended version of the pilot, plus two brief featurettes and deleted scenes.