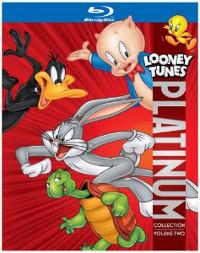 "Be vewy, vewy quiet… I'm hunting wabbits!"
Looney Tunes Platinum Collection, Volume Two (Warner) follows up Volume One with the HD debut some of the best Warner Bros. cartoons in a creatively curated set.
Disc One is dedicated to the Looney Tunes stars — Bugs Bunny, Daffy Duck, Porky Pig, Road Runner, Wile E. Coyote, Pepe Le Pew, Foghorn Leghorn, Speedy Gonzales — with some of their earliest and most memorable appearances, including the 1940 Tex Avery-directed "A Wild Hare" (the film that really established the personality of Bugs Bunny), the 1938 Fleischer-esque "Porky in Wackyland" from Bob Clampett, and the Chuck Jones classics "Long-Haired Hare" (going to war with opera tenor Giovanni Jones). "Ali Baba Bunny," and "Show Biz Bugs" (with Daffy).
Disc Two features fan favorites, off-beat co-stars, and one-shots. "Wabbit Twouble" (1941) was voted the favorite cartoon in an online poll, but my personal favorites are also included as "The Hunting Trilogy" – three cartoons with Bugs, Daffy, Elmer, verbal gymnastics, and surreal zigzags, all written by Michael Maltese (the wordplay champ of the Looney Tunes staff) and directed by Chuck Jones. The verbal byplay of these three films, combined with Jones' facility for whiplash turns and quick-change role-playing gags, make them among my all-time favorite cartoons. Also includes every appearance of western bad guy Nasty Canasta, sleepy Beaky Buzzard, and hillbilly hobo A. Flea, the complete "Bug Bunny vs. Cecil Turtle" trilogy, and five stand-out one-shots, including the celebrity caricature-stuffed "Hollywood Steps Out" and Chukc Jones' sweetly surreal "Rocket-Bye Baby" with human parents raising a miss-delivered Martian Baby.
The Blu-ray and DVD editions both feature 25 cartoons per disc. Exclusive to the Blu-ray is the collection of commentary tracks on many of the animated shorts and featurettes on the creators, characters, and genres represented in the collection, plus a third disc devoted to special content and rarities from the vault, including 11 of the best cartoons Tex Avery made for MGM after leaving Warner Bros. This collection includes the Oscar-winning "Blitz Wolf" (a wartime reworking of "The Three Little Pigs"), "Red Hot Riding Hood," "Swing Shift Cinderella" (all with Avery's magnificent, eyes-a-popping, woman-hungry Wolf), "Screwball Squirrel" and "King-Size Canary" (two of his most wild and crazy cartoons).