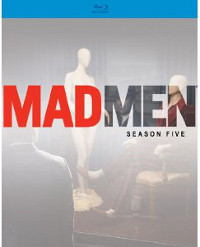 In "Mad Men: Season Five" (Lionsgate), the stress of keeping the prestigious but struggling new advertising firm on Madison Avenue afloat takes its toll on the partners.
The honeymoon is over for Don Draper (Jon Hamm) and his beautiful young wife Megan (Jessica Pare), the power struggle between silver fox and team schmoozer Roger Sterling (John Slattery) and ambitious barracuda Pete Campbell (Vincent Kartheiser) ramps up, the financial problems of Bryce (Jared Harris) become suffocating, and office manager Joan (Christina Hendricks) makes some major life decisions.
You could say that the season is built around the defining episode "The Other Woman," where the partners (over the objection of Don) make Joan an offer that today would invite a lawsuit. It became the water-cooler TV moment of the year, and not just for the salacious drama at the center of the episode. It's one thing to think of Pete as a pimp, another to see him literally become one, from the smug way he makes Joan a modest proposal in her own office (oblivious of how utterly monstrous his behavior is) to the sales pitch makes the (all too willing) partners to make Joan a cash offer to sleep with a big client. Don's disgust does nothing to shut the conversation down.
It started a lively dialogue about the reality of sexual politics in American business life of the era and a lot of women who faced discrimination, condescension, and sexual advances while starting careers in the fifties and sixties were inspired to share their experiences. But there's so much more to this episode, from how badly Don has misjudged his power in the partnership to Peggy's decision to leave the agency and Don's amazing farewell scene, where he goes through all the stages of grief in seconds and ends with a sincerely chivalrous gesture of respect and admiration. Everything changes here, not necessarily better or worse but with decisions that change the course of their lives, and that's part of why the show is so good.