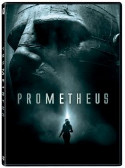 New Releases:
"Prometheus" (Fox), Ridley Scott's return to the "Alien" universe, is ostensibly a prequel to his original film, but it's also an ambitious work of science fiction: cosmic and visionary, executed with a sophisticated visual intelligence while wallowing in stupid pulp contrivances. In the balance it still lands in the plus column for its conceptual daring and amazing imagery. Blu-ray, Blu-ray 3D, DVD, and On Demand. Videodrone's review is here.
"Rock of Ages" (Warner) is both the apogee and the nadir of jukebox rock musicals, a collection of show business clichés wrapped in iconic heavy metal /eighties power pop anthems and delivered via movie star karaoke, with Tom Cruise as a washed up arena rocker and Julianne Hough and Diego Boneta as the young rock hopefuls trying to break into the music business on the Sunset Strip. Blu-ray, DVD, and On Demand. Reviewed on Videodrone here.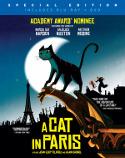 "A Cat in Paris" (New Video), a hand-drawn animated adventure fantasy from France, earned an Academy Award nomination for Best Animated Feature.
"The Raven" (Fox) stars John Cusack as Edgar Allen Poe taking on a killer who takes cues from Poe's own stories. Both on Blu-ray, DVD, and On Demand.
Plus the indie dramas "Crazy Eyes" (Strand) and "30 Beats" (Lionsgate), indie comedy  "The Giant Mechanical Man" (Tribeca), and the concert film "Shut Up and Play the Hits" (Oscilloscope) featuring LCD Soundsystem.
Browse the complete New Release Rack here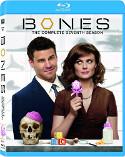 TV on Disc:
"Bones: The Complete Seventh Season" (Fox) came in at an abbreviated 13 episodes, due to the real-life pregnancy of star Emily Deschanel, an event worked into the series: Bones and Brennan become the happily unmarried parents of a baby girl, committed in their own, unique way to an unconventional family life. All this, plus a new "squintern." Blu-ray and DVD. Videodrone's review is here.
"Whitney: Season One" (Universal) is the sitcom created by and starring comedienne Whitney Cummings as a marriage-shy romantic who is not a crazy as she or her boyfriend (Chris D'Elia) thinks she is, at least not compared to their friends. 22 episodes, DVD only. Reviewed on Videodrone here.
"Holliston: The Complete First Season" (Image) is the comedy series about aspiring horror filmmakers made for FearNet, the horror channel. Blu-ray and DVD.
"Yancy Derringer: The Complete Series" (Timeless) is the one and only season of the Dixie western with Jock Mahoney as a riverboat dandy, plantation owner, and secret agent. DVD only.
Also new: "The Lucy Show: The Official Sixth and Final Season" (Paramount), the latest seasons of "It's Always Sunny in Philadelphia: The Complete Season 7" (Fox) and "The League: The Complete Season Three" (Fox), and the "Combat! 50th Anniversary Edition Fan Favorites" (Image) collection, featuring two episodes directed by Robert Altman.
Flip through the TV on Disc Channel Guide here
Cool and Classic:
"Three Wicked Melodrama from Gainsborough Pictures" (Eclipse/Criterion) is a perfectly appropriate title for this trio of gothic-pulp melodramas that became huge popular hits in Britain during World War II. Think of the three films — "The Man in Grey" (1943), "Madonna of the Seven Moons" (1945), and "The Wicked Lady" (1945) — as costume drama exploitation, disreputable potboilers of plucky heroines, wicked villainesses, and darkly seductive antiheroes, all with a gleeful plunge into bad behavior that trumps any poetic justice. And they made stars of James Mason and Stewart Granger. Three discs, no supplements, DVD only.
"Little Shop Of Horrors: The Director's Cut" Blu-ray (Warner) is the 1986 musical version of the Roger Corman zero-budget comedy, with both the restored original ending as well as the theatrical version. Blu-ray and DVD, with supplements. Reviewed on Videodrone here.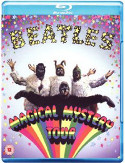 "Magical Mystery Tour" (EMI), the largely-improvised DIY TV special made by The Beatles in 1967, is not a good film by any definition, but this slice of Beatles memorabilia has never looked or sounded this good before. Blu-ray and DVD, with supplements.
"The Robert Mitchum Film Collection" (Fox) collects ten films (all previously released) on ten discs, including "The Night of the Hunter," "Heaven Knows, Mr. Allison," "Thunder Road," and "The Longest Day." DVD only.
Plus Frank Henenlotter's "Basket Case 3: The Progeny" (Synapse) and Dean Martin in "Something Big" (Paramount), and from the manufacture-on-deman​​d current is Vincent Price in the exotic "Confessions of an Opium Eater" (Warner Archive), reviewed on Videodrone here.
All of the Cool and Classic here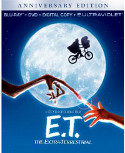 Blu-ray Debuts:
"E.T.: The Extraterrestrial – Anniversary Edition" Blu-ray (Universal) brings Steven Spielberg's suburban fairy tale for kids who think they are too hip to believe in fairies to Blu-ray in a director-approved edition. And rest assured, the "enhancements" that Spielberg made for the 2002 re-release are nowhere to be found here. Unlike George Lucas, Spielberg has chosen to honor the original film with this release, which is packed with new and archival supplements. Videodrone's review is here.
With the big Universal Hitchcock "Masterpiece" box set bumped a month to the end of October, a pair of Warner Hitchcock Blu-ray debuts now arrive ahead of the set: "Dial M For Murder 3D" (Warner), which includes a standard Blu-ray version, and "Strangers on a Train" (Warner), one of Hitch's greatest films, presented with plenty of supplement, including a longer preview cut of the film. Reviewed on Videodrone here.
In "What Ever Happened to Baby Jane?" (Warner), Bette Davis and Joan Crawford do their damnedest to upstage one another in the twisted grand guingol spectacle from Robert Aldrich.
Plus Disney's "The Great Mouse Detective: Mystery in the Mist Edition" (Disney), and Tom Savini's 1990 remake of "Night of the Living Dead" (Twilight Time).
Peruse all the new Blu-rays here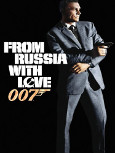 New on Netflix Instant:
It's a James Bond festival! Netflix Instant features two of the best classic Bonds, with Sean Connery in "From Russia With Love" (1963) and George Lazenby in "On Her Majesty's Secret Service" (1969). Plus "Diamonds Are Forever" (1971), "The Man With the Golden Gun" (1974), and the "Star Wars"-inspired "Moonraker" (1979).
Two classic westerns with The Duke: John Wayne stars in "Red River" (1948) with Montgomery Clift and "The Man Who Shot Liberty Valance" (1962) with James Stewart.
Akira Kurosawa directs "Kagemusha" (1980) and David Lynch directs "Mulholland Drive" (2001), plus "Enter the Dragon" (1973) with Bruce Lee and "Star Trek II: The Wrath of Khan" (1982), the greatest of all the "Star Trek" features.
Browse more Instant offerings here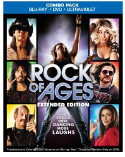 New On Demand
Arriving same day as disc are Ridley Scott's "Alien" "prequel" "Prometheus" with Noomi Rapace and Michael Fassbender and the musical "Rock of Ages" with Tom Cruise and an eighties jukebox score. Also new: "The Raven" with John Cusack as Edgar Allen Poe and the animated "A Cat in Paris."
Available before theatrical release are the crime thriller "Hotel Noir" with Rufus Sewell and Carla Gugino (Tuesday, October 9), the comedy "Price Check" with Parker Posey (Thursday, October 11), and the drama "Special Forces" with Diane Kruger and Djimon Hounsou (Friday, October 12).
Available from Redbox this week:
Arriving a week after video stores comes "People Like Us" (DreamWorks), the based-on-a-true-stor​​y family drama starring Chris Pine and Elizabeth Banks. Videodrone's review is here.
Also arriving in Redbox kiosks this week: "Snow White and the Huntsman" (Universal, on DVD and Blu-ray) with Kristen Stewart and Charlize Theron and the indie comedy  "Lola Versus" (Fox) with Greta Gerwig. Reviews here.