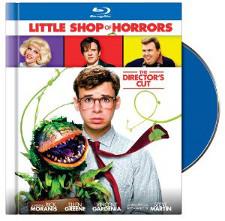 Little Shop Of Horrors: The Director's Cut (Warner), the first non-Muppet film directed by Frank Oz, is the big-screen adaptation of the doo-wop Broadway musical about a baritone man-eating plant spun from Roger Corman's comic horror quickie. In other words, a glossy big budget remake of a zero-budget programmer. You'd think with such a legacy it just wouldn't work, but the mix of bouncy music, over-saturated color, gee-whiz 1950s parodies and a gloriously phony set recalling the glory days of MGM musicals all comes together into a sly little production that hits all the right notes.
The film was released with a new, happy ending, after terrible audience response to the hilariously apocalyptic original finale that killed off the heroes and set the plants on a rampage over the Earth right out of "King Kong," "Godzilla," "The Day of the Triffids," and dozens of classic invasion films and giant monster romps. This new edition presents both the theatrical version and the original director's cut, which is wilder than you ever imagined. (That ending was briefly available in a B&W workprint version on a rare disc that was pulled from stores almost immediately; this is in full color and mastered for this release.)
Also includes the new featurette "Frank Oz and Little Shop of Horrors: Director's Cut," featuring interviews with Oz and special effects supervisor Richard Conway, and new commentary by Frank Oz on the 20-minute alternate ending, in addition to the supplements carried over from the earlier DVD release: commentary by Frank Oz on the theatrical cut, a light making-of featurette, and outtakes and deleted scenes with optional commentary. Blu-ray and DVD, with a 36-page booklet packaging for the Blu-ray edition.