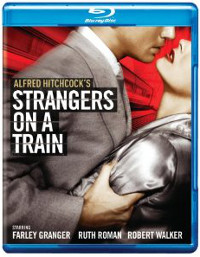 With the big Universal Hitchcock "Masterpiece" box set bumped a month to the end of October, a pair of Warner Hitchcock Blu-ray debuts now arrive ahead of the set: Dial M For Murder 3D (Warner), which includes a standard Blu-ray version, and Strangers on a Train (Warner), one of Hitch's greatest films.
"Strangers on a Train" (Warner) is one of Alfred Hitchcock's undisputed masterpieces, a thriller of demented wish fulfillment turned into a waking nightmare turns on a chance meeting. Demented playboy Bruno (Robert Walker, whose insidious insincerity is unsettling from his first scene) meets champion tennis player Guy (Farley Granger) with marriage problems (he wants out of a loveless marriage to marry Senator's daughter Ruth Roman, but his wife to refuses to grant a divorce). Bruno spins a story of swapping murders, proceeds to kill the troublesome wife, and insists Guy return the favor… or else. Hitch loved dark doubles and this is his most sociopathic shadow.
Scripted by Raymond Chandler from the novel by Patricia Highsmith (a master of psychopathic characters and warped psychologies), it's masterfully constructed and perfectly cast: Granger is the weakest of Hitchcock hero's, and appropriately so as he faces the prospect of his darkest wish coming true, and Walker's psychopathic intensity is icy and obsessive, the opposite of Granger's nervousness. Walker has the film's best moment as Bruno stares at Guy, the lone unmoving head in a crowd nodding back and forth with the volley of the tennis match.