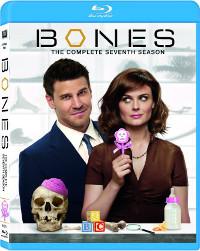 Bones: The Complete Seventh Season (Fox) came in at an abbreviated 13 episodes, due to the real-life pregnancy of star Emily Deschanel, which was worked into the series.
Season Six ended  with Dr. Temperance Brennan (Deschanel ), aka Bones, announcing to her partner FBI Special Agent Seeley Booth (David Boreanaz) that she was pregnant and that he was the father. The warm smile that Booth gave in acceptance of the news made for one the best season-enders ever.
The first half of this split season follows Bones still working in the field through her pregnancy while the happily unmarried couple searches for a house (and Booth's own protective instincts are kicked into high gear). After a break for Deschanel's real-life maternity leave, the second half picks up with Bones as a new mother trying to handle all the illogical biological impulses that motherhood has introduced into her logical way of life and learning to live with Booth in their new family home.
Meanwhile Dr. Saroyan (Tamara Taylor) still struggles as an instant mother to a teenager, Angela and Hodgins (Micheala Conlin and T.J. Thyne) learn to juggle the responsibilities of new parenthood (with a lesson learned from Angela's bluesman father, once again played by ZZ Top's Billy Gibbons), and Dr. Sweets continues his romance with Daisy (Carla Gallo), still the most aggressively annoying "squintern" in the line-up. There's also a new squintern in the rotation: Luke Kleintank as Finn Abernathy, a southern fried former delinquent who becomes the Andy Griffith of forensic anthropology, complete with colorful southern phrases involving critters.