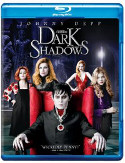 New Releases:
"Dark Shadows" (Warner) ostensibly a big screen remake / revival of the late 1960s gothic soap opera, is really a trip to Tim Burton-land, where families learn to embrace the eccentric and the weird and Johnny Depp leads the way. It ultimately has very little to do with the show and everything to do with Burton's affection for the ghoulish and the goofy, especially when they come wrapped together, and that's where the film comes alive. Blu-ray, DVD, and On Demand. Videodrone's review is here.
"People Like Us" (DreamWorks), a based-on-a-true-stor​​ y family drama, offers some touching moments between the Hollywood contrivances and some moving moments that remind us of the power of family ties. Stars Chris Pine and Elizabeth Banks elevate the film with their performances. Blu-ray and DVD, and On Demand.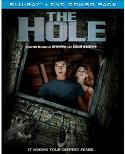 "The Hole" (Big Air), Joe Dante's family-friendly horror film, didn't get a theatrical release but it should have. His play with nightmares come to life is fine, but his understanding of family dynamics and childhood anxieties is even better. Blu-ray and DVD. Videodrone interviews Joe Dante here and we have an exclusive clip from the disc extras here.
"Red Lights" (Millennium) is a paranormal thriller turned battle of wits with Cillian Murphy and Sigourney Weaver as the hoax-busters and Robert De Niro as the flamboyant psychic. Blu-ray and DVD, and On Demand. Elizabeth Olson co-stars in this and in "Peace, Love and Misunderstanding" (MPI), a generational family drama with Jane Fonda as an aging flower child and Catherine Keener as the daughter who rebelled from her counter-culture lifestyle. Blu-ray and DVD, also at Redbox.
Foreign imports this week include the self-styled "Buddhist film noir" "Headshot" (Kino) from Thailand (Blu-ray and DVD), the science fiction spoof "Iron Sky" (eOne) about Nazis on the far side of the moon, from Germany (Blu-ray and DVD), and the Chinese spectacular "Flying Swords of Dragon Gate" (Vivendi), from director Tsui Hark and star Jet Li (Blu-ray, Blu-ray 3D, and DVD).
Plus the indie drama "The Sound of My Voice" (Fox) with Brit Marling (Blu-ray and DVD, and On Demand) and the historical drama "The Lady" (Cohen Media Group) starring Michelle Yeoh as the Burmese activist Augn San Suu Kyi (Blu-ray and DVD, and On Demand).
Browse the complete New Release Rack here

TV on Disc:
"Hart Of Dixie: The Complete First Season" (Warner) sends ambitious and abrasive (but in a cute way) young Manhattan medical resident Dr. Zoe Hart (Rachel Bilson) out of the Big Apple and into the kind of quaint, quirky small town that exist only on television. It's a classic fish-out-of-water network show about a New York girl who finds southern comfort in a small town medical practice. It arrives on disc the day the new season begins on TV. DVD only. Videodrone's review is here.
"New Girl: Season One" (Fox) is Zooey Deschanel playing her usual quirky, kooky self, this time as a bouncy free spirit who flees a cheating boyfriend by moving in with three bachelors (Jake Johnson, Max Greenfield, Lamorne Morris) who immediately become protective of her. It also doesn't hurt that her best friend (Hannah Simmone) is a gorgeous model. It's one of the sitcom successes of 2011 and the new season is already underway. 24 episodes on three discs, plus commentary on three episodes, featurettes, audition footage, and deleted scenes. DVD only.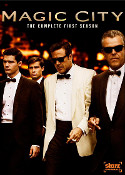 "Magic City: The Complete First Season" (Anchor Bay), the Starz original series about nightclubs and gangsters in 1959 Miami, plays like "Mad Men" meets "Boardwalk Empire" in Starz exploitation style, with lots of naked showgirls and torrid affairs sprinkled through the big deals and gangland hits. Jeffrey Dean Morgan and Olga Kurylenko star with Danny Huston going over the top as the crude gangster whose nickname is "The Butcher." Eight episodes on three discs on Blu-ray and DVD, plus supplements. The second season begins in 2013. Videodrone's review is here.
"Vexed: Series One" (Acorn) is a cheeky new British crime series with Lucy Punch and Toby Stephens as mismatched partners. Also arriving from Britain is the crime drama "Kidnap and Ransom" (Acorn) and the original "Upstairs Downstairs" spin-off "Thomas and Sarah" (Acorn).
Plus new seasons of "Nikita: The Complete Second Season" (Warner), "How I Met Your Mother: The Complete Season Seven" (Fox), and "90210: The Fourth Season" (Paramount). And just in case you've recently become addicted, "Downton Abbey: Seasons 1 & 2 – Limited Edition" (BBC) arrives before the third season launches.
Flip through the TV on Disc Channel Guide here
Cool and Classic:
Four of the eight "The Three Mesquiteers" westerns that John Wayne made for Republic Pictures between 1938 and 1939 debut on DVD and Blu-ray in fine new masters from Olive pictures. Wayne plays Stony Brook in "Overland Stage Raiders" (Olive), co-starring Louise Brooks in her final film appearance, "Red River Range" (Olive), "Three Texas Steers" (Olive), and "The Night Riders" (Olive), alongside Ray Corrigan as Tucson Smith and Max Terhune as Lullaby Johnson. All directed by George Sherman and running under an hour, they are breezy, brisk B-westerns with plenty of personality, made just as John Wayne was breaking out as a major star in "Stagecoach." Videodrone's review is here.
"Train of Life" (Olive), from Romanian director Radu Milhaileanu, is a Holocaust fairy tale about a wild plan to save a small European town from the Nazis. Blu-ray and DVD.
All of the Cool and Classic here
Blu-ray Debuts:
"Universal Classic Monsters: The Essential Collection" (Universal) features the Blu-ray debuts of eight of the most famous Universal monster movies from the thirties through the fifties, with gorgeous new HD masters of "Dracula" (1931) with Bela Lugosi, "Frankenstein" (1931), "The Mummy" (1932), and "The Bride of Frankenstein" (1935) with Boris Karloff, "The Invisible Man" (1933) with Claude Rains, and "The Wolf Man" (1941) with Lon Chaney Jr., plus the Technicolor "Phantom of the Opera" (1943) with Claude Rains and "Creature From the Black Lagoon" (1954) from the fifties era of Universal monster movies, and among the supplements a ninth feature — the 1931 Spanish language "Dracula" — and the 3D version of "Creature" (requires a full HD 3D TV, compatible 3D glasses, and a Blu-ray 3D player). All this, plus documentaries, commentary tracks, and more. Videodrone's review is here.
"Cinderella" (Disney), Disney's bright, lively 1950 musical fairy tale, gets the high definition upgrade in a newly remastered "Diamond Edition," with new and archival supplements. Reviewed on Videodrone here.
Wong Kar-Wai's "In The Mood for Love" (Criterion) placed number 24 in Sight and Sound's critic's poll of the Best Films of All Time, one of only two films of the new century to make the list. Criterion presents the HD debut in a newly remastered edition. Reviewed on Videodrone here.
"The Princess Bride" (MGM), a perennial home video release, gets its third Blu-ray incarnation to celebrate its 25th Anniversary, while "Annie" (Sony), "Pet Sematary" (Paramount), "Master of the Universe" (Warner), and "Milk of Sorrow" (Olive) all debut this week.
Peruse all the new Blu-rays here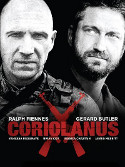 New on Netflix Instant:
In "Coriolanus" (Anchor Bay), Ralph Fiennes returns to a role and an interpretation of the Shakespeare play he debuted on stage more than ten years before and adapts it to the big screen for his feature film directorial debut.
Jason Sudeikis throws "A Good Old Fashioned Orgy" (Sony) and Lake Bell, Leslie Bibb, Tyler Labine, Will Forte and Lucy Punch are among the guests. "Headhunters" (Magnolia) is a different kind of comedy, a darkly comic Norwegian thriller about an art thief who matches wits with his mark.
Arriving on heels of disc release is the horror film "The Tall Man" with Jessica Biel, the Danish comedy "Klown" (2010), and the documentary "Gerhard Richter Painting" (2011).
A handful of Asian cult films are also now available, including the notorious "Battle Royale" (2000), Johnnie To's gangster drama "Election" (2005), and the Korean thriller "Lady Vengeance" (2005), the final film in Park Chan-Wook's "Vengeance" trilogy.
Browse more Instant offerings here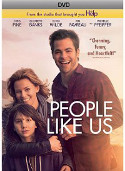 New On Demand
Tim Burton's "Dark Shadows" turns the old gothic soap opera into an eccentric family comedy with Johnny Depp as a vampire patriarch. Also available same day as disc is the family drama "People Like Us" with Chris Pine and Elizabeth Banks, the paranormal showdown "Red Lights" with Sigourney Weaver and Robert De Niro, the indie drama "Sound of My Voice" with Brit Marling, and "The Lady" with Michelle Yeoh as Burmese activist Augn San Suu Kyi.
Debuting On Demand this week, before theaters is "The Details," a black comedy with Tobey Maguire and Elizabeth Banks, plus the thriller "In Their Skin" with Selma Blair and the comedy "Nature Calls" with Johnny Knoxville and Patton Oswalt.
Arriving before DVD is "Restless City," a drama about an African immigrant in New York City.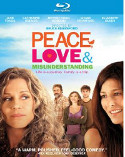 Available from Redbox this week:
"Peace, Love and Misunderstanding" (MPI) is available same day as video stores. Also arriving in Redbox kiosks this week is "The Five-Year Engagement" (Universal), a comedy from Nicholas Stoller and Jason Segal (the team behind "Forgetting Sarah Marshall") and starring Emily Blunt and Jason Segal, and "Swinging With the Finkels" (Freestyle) with Mandy Moore and Martin Freeman.
Flashback release this week: Sam Raimi's "Drag Me to Hell" (Universal), an unforgiving morality tale with playfully gruesome twists and a doozy of a gallows humor, like an EC horror comic of the 1950s come to life.