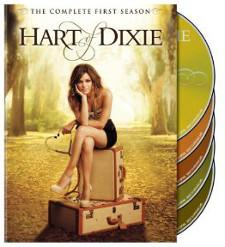 Hart Of Dixie: The Complete First Season (Warner) sends ambitious and abrasive (but in a cute way) young Manhattan medical resident Dr. Zoe Hart (Rachel Bilson) out of the Big Apple and into the kind of quaint, quirky small town that exist only on television.
She wants to be heart surgeon, just like her father, except she discovers that her biological father was actually the old country doctor who has been inviting her to work out of his practice in Bluebell, Alabama, and though he passes away before she learns the truth, he left her a gift: his share of the practice. It's just what she needs to learn to deal with patients as people rather than medical puzzles and practice her bedside manner ("Why is everyone so obsessed with that?" she sputters in the first episode).
Medical practice aside, this is the 2011 TV season's answer to "Gilmore Girls" south of the Mason-Dixon, or "Northern Exposure" as a light southern soap opera if you prefer. Bilson is the obligatory urban fish-out-of-water who clashes with southern belle socialite Lemon Breeland (Jaime King), who happens to be the daughter of the other half of the practice, Dr. Brick Breeland (Tim Matheson). Both are ready to do almost anything to drive her out of town and back into the city, leaving Brick the practice and Lemon her fiancé (Scott Porter), the town golden boy lawyer who meets cute with Zoe twice in the first episode. Before the episode is over, we learn he's engaged, and the season leads up to the big will-there-or-won't-​there-be-a wedding.