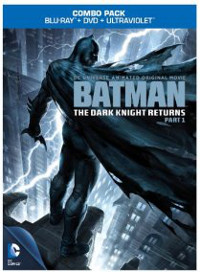 Batman: The Dark Night Returns, Part 1 (Warner), the latest DC Universe animated original movie, tackles Frank Miller's landmark Batman graphic novel. It's their most ambitious project to date and if you accept the fact that no conventional animated film could ever really capture the graphic edge of Frank Miller's dystopian vision or the psychotic intensity of his vigilante fantasy, then you can appreciate how much this direct-to-disc animated feature got right in its translation to a more mainstream audience.
Peter Weller voices old man Bat as an angry, bitter, seventy-something resurrection of the once-retired hero who comes back by sheer force of will in a Gotham City spiraling into chaos, and Ariel Winter (of "Modern Family) is Carrie, the girl who becomes his Robin. Streamlined to a more conventional narrative, the animated film loses the power of Miller's defining graphic design but is accurate to the story, which becomes more of cartoon of weak-willed liberals in a savage world right out of an Ayn Rand fantasy. But the blocky, square-jawed Batman has the same hard, etched lines and graphic presence of the comic book page and the fight scenes deliver a different kind of action:  the sheer force of will and physical endurance of the old man Bats pushing his body past its limits. The deliberate pacing and pounding action is more about the force of the blows than the grace and spectacle of the choreography. It would take a far more daring approach to really do justice to Miller's groundbreaking work, which is defined as much by his graphic design as by his writing, but this is at the very least interesting and at best unexpected. The second part of the story is set for release in 2013.
Blu-ray and DVD, with the featurettes "Batman and Me: The Bob Kane Story," previews of upcoming DC Universe animated original movies, and two bonus "Batman" cartoons from the animated series. Exclusive  to the Blu-ray is the featurette "Her Name is Carrie… Her Role is Robin" and a digital comic.