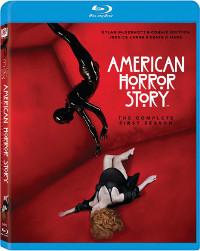 American Horror Story (Fox) is a TV rarity: an interesting, creepy, at times gruesome, and increasingly compelling horror story told over the course of a cable TV season.
Created by Ryan Murphy and Brad Falchuk, this FX original series (the same network where they unleashed "Nip/Tuck") isn't the bright musical world of "Glee." Though set in Los Angeles, where Boston family has moved to start over again after a marital affair has almost  torn them apart, this is a gloomy world, mostly set in a grand yet oppressive old home in a tree-lined neighborhood. And oh yeah, there was a murder committed here. Actually a bunch of murders. In fact, the home is a star attraction on the L.A. Murder Bus Tour route.
This isn't, however, simply an innocent family beset by the trapped spirits of murders past. They dead just bring out the worst in the living, and there's plenty to draw out of the bitter father Ben Harmon (Dylan McDermott), a psychiatrist who needs to heal himself, resentful mother Vivien (Connie Britton), who still hasn't forgiven him for his affair, and angry teenage daughter Violet (Taissa Farmiga), who has plenty to rebel against.
Jessica Lange, who just won an Emmy for her performance, is the displaced southern belle next door, a cross between Blanche DuBois and J.R. Ewing and played with a relish for theatrical flair. Her life is a performance, and she delivers the show's best line with a mix of threat and delight: "Don't make me kill you again." The rest of the neighborhood slowly introduces itself, and as we discover, most of them actually reside in the Harmon home, trapped by death to replay their terrible stories with every new living resident.