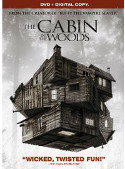 New Releases:
"The Cabin in the Woods" (Lionsgate), a wily, witty, very entertaining love letter to horror movie fandom from Joss Whedon and Drew Goddard, may not be particularly scary, but it's fun, clever, and the most fun I had at a movie all years. Blu-ray, DVD, On Demand, and at Redbox. Videodrone's review is here, and we have an interview with director Drew Goddard here.
"The Best Exotic Marigold Hotel" (Fox) sends the best in British acting talent of a certain age (Judi Dench, Bill Nighy, Tom Wilkinson, Maggie Smith, just to name a few) to a retirement home in India. Feel-good British filmmaking ensues. Blu-ray and DVD
"Katy Perry: Part of Me" (Paramount) is an energetic concert film with behind scenes footage that "gives its target audience just about as much truth as it can handle," according to MSN film critic Glenn Kenny. Blu-ray, DVD, On Demand and at Redbox.

Hugh Dancy and Maggie Gyllenhaal star in "Hysteria" (Sony), a wry look at the invention of the vibrator (yes, *that* kind of vibrator) (Blu-ray, DVD, On Demand and at Redbox) and Ethan Hawke and Kristin Scott Thomas are in the psychological thriller "The Woman in the Fifth" (New Video), a British film in Paris (DVD only).
"Chico & Rita" (New Video), a music-infused animated blast from Spain, was an Academy Award nominee for Best Animated Feature. Blu-ray, DVD, Blu-ray+DVD Special Edition, and On Demand. Other foreign release this week include "The Salt of Life" (Zeitgeist) from Italy and "Oslo, August 31st" (Strand) from Norway. Both DVD only.
Plus: "The Magic of Belle Island" (Magnolia) with Morgan Freeman and Virginia Madsen, "The Do-Deca-Pentathlon" (Fox) from the Duplass brothers, and "The Babymakers" (Millennium) with Paul Schneider and Olivia Munn.
Browse the complete New Release Rack here
TV on Disc:
"Suburgatory: The Complete First Season" (Warner), starring Jeremy Sisto as a single dad and Jane Levy as his sardonic teenage who move from New York City to the suburbs, is a pretty entertaining meeting of classic sitcom tropes (cool unconventional family, crazy neighbors, exaggerated cultural spoof) with the knowing, self-aware humor of more contemporary comedies, like "Community" and "30 Rock." OMG! 22 episodes plus supplements on three discs. DVD only. Videodrone's review is here.
"Steve Martin: The Television Stuff" (Shout! Factory/SOFA Entertainment) collects all six specials that Steve Martin made for cable and broadcast TV between 1976 and 1984. The stand-up specials great but the gold is in the surreal sketches of his freewheeling network specials. Also includes a disc of Martin appearances on other TV shows. Three discs plus a booklet. DVD only. Reviewed on Videodrone.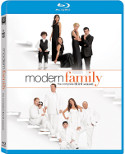 "Get A Life: The Complete Series" (Shout! Factory) was Chris Elliot's first TV series, a surreal and just plain weird anti-sitcom about a thirty-year-old paperboy. The mix of silliness and sometimes dark and disturbed twists is not that unusual today but it was awfully different in 1990. 35 episodes and a lot of supplements on six discs, DVD only.
Plus new seasons of the hit sitcom "Modern Family: The Complete Third Season" (Fox), the cult "Supernatural: The Complete Seventh Season" (Warner), plus "Body of Proof: The Complete Second Season" (Disney), "Hawaii 5-0: The Second Season" (Paramount), "The Mentalist: The Compete Fourth Season" (Warner) and more.
Flip through the TV on Disc Channel Guide here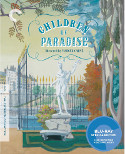 Cool and Classic:
"Children of Paradise" (Criterion), Marcel Carné's legendary epic of love, theater, and crime in 19th Century Paris, is a masterpiece of French cinema and one of the best loved films of all time. It debuts on Blu-ray and gets a new DVD edition on Criterion this week along with 1942 fantasy "Les visiteurs du soir" (Criterion). Reviewed on Videodrone here.
Mario Bava's "Black Sunday" (Kino), "Lisa and the Devil" (Kino), and "Hatchet for the Honeymoon" (Kino) all debut in newly remastered DVD editions and Blu-ray debuts. They defined and refined Italian horror of the sixties and seventies with a mix of poetic, haunting beauty, grand guignol gore, and a bent of sexual perversity. Videodrone's review is here.
Olive release more from the Republic library, including Orson Welles' unconventional 1948 version of "Macbeth" (Olive), the Oscar-winning theatrical thriller "A Double Life" (Olive) with Ronald Colman, and the 1950 "Cyrano De Bergerac" (Olive) with Jose Ferrer.
"End of the Road" (Warner), the 1969 cult movie of madness in the turmoil of the late sixties chaos, debuts on DVD with a new documentary produced and directed by Steven Soderbergh.
Also debuting on DVD: Robert Bresson's "The Devil, Probably" (Olive) and Maurice Pialat's "Police" (Olive).
All of the Cool and Classic here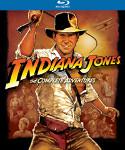 Blu-ray Debuts:
"Indiana Jones: The Complete Adventures" (Paramount), a five disc set with the Blu-ray debut of the original trilogy, is the definitive home video incarnation of the pulp adventure series starring Harrison Ford as globetrotting, whip-cracking, devil-may-carearcheologist-turned-​adventurer Indiana Jones. And it features hours of supplements.Videodrone's review is here.
Johnny Depp is "Ed Wood" (Touchstone), the angora loving, cross-dressing cult director, in Tim Burton's loving film biography, perhaps the most loving portrait of a filmmaker ever put on screen. The Blu-ray debut includes the generous supplements of the DVD  special edition. Reviewed on Videodrone here.
"Love Exposure" (Olive) is an epic, four-hour drama of youth culture in Japan from director Sion Sono.
Also new: the 1995 "Judge Dredd" (Touchstone) with Sylvester Stallone, "Queen of the Damned" (Warner) with Stuart Townsend and Aaliyah and "Devil's Advocate" (Warner) with Keanu Reeves and Al Pacino.
Peruse all the new Blu-rays here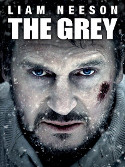 New on Netflix Instant:
"The Grey" (Universal) drops Liam Neeson in the middle of the Alaskan wilderness and pits him against a pack of ravenous wolves in Joe Carnahan's muscular survival thriller.
Arriving a week after debuting on disc is "Goats" (2012) with David Duchovny and Vera Farmiga and the French drama "Elles" (2011) with Juliette Binoche.
Last season's TV shows are arriving in droves as the new season, and perhaps the most engaging of these is the surprise hit "Once Upon a Time: Season One," a small town melodrama with roots in the classic tales of magic, heroes, witches, and curses.
Also rife with melodrama and scandal are "Revenge: The Complete First Season," a juicy nighttime soap opera of the rich and beautiful in the Hamptons with Madeleine Stowe, and "Scandal: The Complete First Season," starring Kerry Washington as the politically-connecte​d head of D.C. crisis management firm.
Fans of laid-back British mystery will enjoy "Midsomer Murders: Series 1-10" (1997-2007), starring John Nettles as the unflappable DCI Barnaby in  what is surely the murder capital of England, and for fun check out Rowan Atkinson in "Mr. Bean: The Whole Bean" (1989-1995), a sweet dose of innocent silent movie comedy in the modern world.
Browse more Instant offerings here

New On Demand:
"The Cabin in the Woods," the clever horror movie riff from Joss Whedon and Drew Goddard, is available same day as disc. Other New Releases this week: the British comic drama "The Best Exotic Marigold Hotel," the pop concert film "Katy Perry The Movie Part of Me," the Oscar-nominated, music-infused animated feature "Chico & Rita," and "Hysteria" and "The Do-Deca-Pentathlon." See New Releases above for more.
Theatrical releases also available On Demand this week include "Liberal Arts" with Josh Radnor and Elizabeth Olsen, the indie drama "For Ellen" with Paul Dano, and the documentary "Knuckleball!" "17 Girls" arrives on Friday, September 21.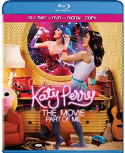 Available from Redbox this week:
Arriving day and date with video stores are "The Cabin in the Woods" (Lionsgate), "Katy Perry: Part of Me" (Paramount), "Hysteria" (Sony), "The Magic of Belle Island" (Magnolia), and "Salvation Boulevard" (Sony). See New Releases above.
Flashback release this week: "Tropic Thunder" (Dreamworks), Ben Stiller's lampoon of moviemaking madness with Robert Downey Jr., Jack Black, and Tom Cruise.