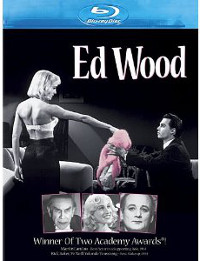 Johnny Depp is "Ed Wood" (Touchstone), the angora loving, cross-dressing cult director in Tim Burton's loving film biography, perhaps the most loving portrait of a filmmaker ever put on screen. Who'd have though such an honor would go to the filmmaker commonly (and unfairly) branded as "the worst director of all time"? As portrayed by a wired Depp, Wood is all ambition, energy, and passion, a filmmaker so in love with the idea of filmmaking that he lets some of the rudimentary details slip by — little things like sets getting bumped by actors, gravestones falling over, and shots mismatched so incompetently that scenes change from night to day to night again.
While that's funny, Burton and screenwriters Scott Alexander and Larry Karaszewski never make him a figure of derision. He presides over his flea-pit filmmaking circus like the world's most inviting host, and his regular band of players seem drawn not so much to the art as to the affectionate, eccentric artist. Burton's direction makes every one of his productions feel like a floating party turned experimental theater. Martin Landau's Oscar winning performance as Bela Lugosi in his declining, morphine-addict years, is compassionate and moving, and Sarah Jessica Parker, Patricia Arquette, Jeffrey Jones, Bill Murray, and Lisa Marie co-star. The B&W photography is crisp and beautiful and Howard Shore's score is playful and perfect.
The Blu-ray ports over all the supplements of the DVD special edition. The well-edited commentary track, created from separate recollections by director Tim Burton, actor Martin Landau, screenwriters Scott Alexander and Larry Karaszewski, costume designer Colleen Atwood, and cinematographer Stefan Czapsky (with Landau reprising his Bela voice as your host), is a rich and engrossing tour through the inspiration, conception, and production of the film. It's dominated by screenwriters, who contribute the most interesting insights to Wood and Lugosi lore, as well as the liberties they took with history. The 15-minute behind-the-scenes documentary "Let's Shoot This F#%@r!" is an impressionist behind-the-scenes glimpse from the set, introduced by Johnny Depp in full Ed Wood drag. Also includes five deleted scenes, the short featurettes "Making Bela" (with Landau and make-up artist Rick Baker), "Pie Plates Over Hollywood" (production designer Tom Duffield creates the world of "Ed Wood"), and "The Theremin" (on the unique electronic instrument used in the score) and a Tim Burton-directed music video.