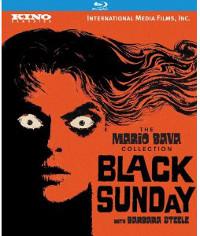 Mario Bava essentially created the genre of baroque horror known as "giallo," a distinctly Italian twist on stalk and kill horror film. Under his direction, grand guignol gore is transformed into lush, visually elegant cinematic spectacle, a waking nightmare with the poetic grace of a musical and a demented edge of sexual perversity. Three of his classics — Black Sunday (1960), Lisa and the Devil (1973), and Hatchet for the Honeymoon (1968) — get new DVD releases and make their respective Blu-ray debuts in newly remastered editions from Kino in partnership with International Media and the British genre label Redemption.
After rising through the ranks of the Italian film industry as a cameramen (Bava disdained the term "cinematographer") and special effects artist, contributing to Pietro Francisci's genre-defining muscleman movies "Hercules" and "Hercules Unchained" and completing (uncredited) Riccardo Freda's minor horror classic "I Vampiri," Bava made his official directorial debut at age 46 with an adaptation of Nikolai Gogol's short story "Viy." The film was called "The Mask of Satan," which was renamed "Black Sunday" (Kino) for U.S. release.
From the opening frames, Bava proved that he knew how grab an audience's attention. Barbara Steele, her eyes glaring hate even as her face registers terror, is bound to a stake, spitting curses with hellfire to the robed and masked judges who pronounce her death sentence. A spiked mask is slowly placed over her face and a massive wooden mallet pounds the iron mask with a startling finality as the credits explode in fire (this final shot was excised from the American release). Even as the film eases into an eerie gothic atmosphere of a ghost story, where centuries later the corpse is revived by the innocent descendant (also played by Steele) with a single drop of blood, Bava never eases up on the tension. His vivid style – gliding camerawork, dramatic lighting, striking compositions, and atmospheric sets cobbled together from limited resources – set the standard for Italian gothic horror, and his magnificent photography of the weirdly beautiful Steele made her an icon of the genre. Equally good as the devilishly wicked witch, with eyes blazing and evil smile set off by feral teeth, and the haunted innocent, she plays both in this moody, macabre cult classic of cruelty.