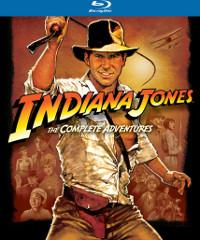 Indiana Jones: The Complete Adventures (Paramount) is just the kind of set that folks buy Blu-ray players for.
Sure, the cinephiles are waiting on "Lawrence of Arabia" and the "Alfred Hitchcock Masterpiece Collection," but their sales pale next to "Harry Potter" and "James Bond 50" and "Indiana Jones." Popcorn memories and genre escape is what defines most of home video libraries, and "Raiders of the Lost Ark" and its sequels, inconsistent though  they may be, stand out a pop culture landmarks that bring out the giddy kid inside us all, children and adults alike
Harrison Ford, fresh from the first two "Star Wars" films, stepped into the battered fedora and leather jacket of the archeologist adventurer in "Raiders of the Lost Ark" (1981, renamed "Indiana Jones and the Raiders of the Lost Ark" for disc), the rip-roaring tribute to the cliffhanger adventures of the 1930s and 1940s from producer George Lucas and director Steven Spielberg. These movie brats were feeding their fondness for the pulp action movies of their youth, from the B-movies and cheap serials of kid matinees to the swashbuckling Errol Flynn adventures and the Technicolor splendor of "King Solomon's Mines," and their affection was infectious. The nostalgic trip through yesteryear thrills of non-stop action and skin of the teeth escapes, executed with Spielberg's filmmaking sophistication and a contemporary tongue-in-cheek sense of humor and driven with runaway momentum, was a blockbuster.
A new franchise was born. Lucas had originally envisioned three films (what is it with Lucas and his trilogies?) and Spielberg helped him see his dream through, beginning with the slapstick romp "Indiana Jones and the Temple of Doom" (1984). Spielberg misjudges the material a little, bouncing from lighthearted action to (at least for kids) disturbing scenes of human sacrifice that he shoots like searing gothic horror. But if the script is negligible, Spielberg opens the film on one of the most delightful set pieces of his career: a screwball musical number executed with all the energy of a classic madcap thirties comedy.