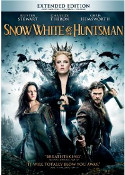 New Releases:
"Snow White and the Huntsman" (Universal) is the "other" feature film interpretation of the classic fairy tale, this one transformed into a medieval adventure with Kristen Stewart as a warrior woman Snow White and Charlize Theron as a wicked witch of an evil queen. On Blu-ray and DVD, with bonus extended version and other supplements, plus digital download and On Demand. Reviewed on Videodrone here.
"What To Expect When You're Expecting" (Lionsgate) is the latest film to turn a self-help bestseller into a feel-good ensemble comedy. This one stars Cameron Diaz, Jennifer Lopez, Elizabeth Banks, Brooklyn Decker, and Anna Kendrick as pregnant women. There are also some guys in their lives. Blu-ray, DVD, On Demand, and at Redbox.
"Lola Versus" (Fox) stars indie sweetheart Greta Gerwig as a twenty-something New Yorker trying to bounce back after she's dumped three weeks before her wedding. Blu-ray and DVD, with supplements. Videodrone has a review and an exclusive clip here.
"Girl in Progress" (Lionsgate) stars Eva Mendes as a single mom with a rebellious daughter (Cierra Ramirez) who is wise beyond her years, or at least she thinks so. DVD, On Demand, and at Redbox.
"Elles" (Kino), a French drama with Juliette Binoche, and "Where Do We Go Now?" (Sony), a battle-of-the-sexes social satire with political dimension from Lebanon, topline the foreign film releases of the week. Both on Blu-ray and DVD.
Plus: the indie comedy "Goats" (Image) and the historical drama "For Greater Glory" (Arc Entertainment), both Blu-ray and DVD.
Browse the complete New Release Rack here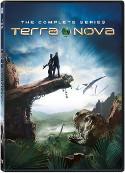 TV on Disc:
"Terra Nova: The Complete Series" (Fox), the short-lived science fiction series of a human colony sent back in time to the prehistoric era, delivers a lush jungle world and an impressive wildlife park spectacle of GCI dinosaurs, but not much else. 13 episodes on four discs, DVD only. Videodrone's review is here.
"Castle: The Complete Fourth Season" (ABC) spends the season dancing around Castle's (Nathan Fillion) declaration of love to Beckett (Stana Katic), who pretends she never heard him say it. Plus they get a new commander who likes to stick to procedure. 23 episodes on five discs, DVD only. Reviewed on Videodrone here.
"Up All Night: Season One" (Universal), with Christina Applegate and Will Arnett as new parents adjusting to life with a baby and Maya Rudolph as their celebrity buddy, arrives on DVD just weeks before the second season launches. 24 episodes on three discs.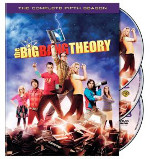 Also on the sitcom front are the "The Big Bang Theory: The Complete Fifth Season" (Warner), the season that reunites Penny and Leonard and sends Howard into space, and "30 Rock: Season Six" (Universal), which includes both versions of the "Live from Studio 6H" episode (East Coast and West Coast editions). Both DVD only.
"Absolutely Fabulous: 20th Anniversary Specials" (BBC) celebrates the cult Britcom with three new half-hour specials, including their appearance at the 2012 Olympics, plus supplements. DVD only.
Plus new seasons of the teen horror melodrama "The Vampire Diaries: The Complete Third Season" (Warner),  the swords-and-sex cable series "Spartacus: Vengeance – The Complete Second Season" (Anchor Bay), the medical drama "Private Practice: The Complete Fifth Season" (ABC) and the cop clan series "Blue Bloods: The Second Season" (Paramount).
Flip through the TV on Disc Channel Guide here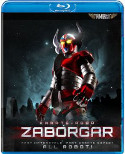 Cool and Classic:
"Karate-Robo Zaborgar" (Well Go) is, in the words of the promotional poster, "Part motorcycle, part karate expert, all robot!" This Japanese tribute to giant robo movies of the seventies arrives on Blu-ray and DVD with a collection of bonus short films. Go, Zaborgar, go!
"Hammer House of Horror" (Synapse) features all 13 episodes British TV horror anthology from the legendary horror studio on five discs, DVD only.
The MOD Movies round-up looks at the James Bond riff "The Liquidator" (Warner Archive) with Rod Taylor and the Gary Cooper western "The Hanging Tree" (Warner Archive), among others.
All of the Cool and Classic here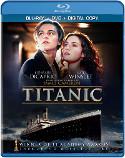 Blu-ray Debuts:
James Cameron's romantic epic "Titanic" (Paramount), at the time the most expensive film ever made and the biggest moneymaker of all time, winner of a record-tying 11 Academy Awards (including Best Picture and Best Director), and the film that made Cameron the self-proclaimed "king of the world," makes its long-awaited Blu-ray debut in both Standard Blu-ray and Blu-ray 3D sets. Videodrone's review is here.
"Ghosts of the Abyss" (Disney), James Cameron's IMAX documentary about exploring the wreck of the Titanic, also debuts on Blu-ray in both 2D and 3D editions.
Also new: "The Sound and the Fury" (Twilight Time), the feature film adaptation of William Faulkner's novel starring Yul Brynner and Joanne Woodward, and "Steel Magnolias" (Twilight Time), with Sally Field, Dolly Parton, Shirley MacLaine, and Julia Roberts in her Golden Globe award-winning role.
Peruse all the new Blu-rays here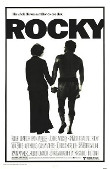 New on Netflix Instant:
"Rocky" (1976), the Oscar-winning underdog drama that launched the career of Sylvester Stallone, plus sequels "Rocky II" (1979), "Rocky III" (1982), "Rocky IV" (1985), and "Rocky V" (1990) — all written and many of them directed by Stallone himself.
Some more Oscar winners: "Braveheart" (1995) from director/star Mel Gibson and "Traffic" (2000) from Steven Soderbergh. "The Conversation" (1974) and "The Cotton Club" (1984) come from Francis Ford Coppola and Oliver Stone directs "The Doors" (1991) with Val Kilmer as Jim Morrison.
For tastes running to science fiction and fantasy, there is "Star Trek: Insurrection" (1998), one of the last features with Captain Picard's crew, the cult adventure "Highlander" (1986) with Christopher Lambert as the eternal swordsman, and John Carpenter's alien invasion horror "The Thing" (1982).
Instant TV includes "Dinosaurs" (1991-1995), the complete Jim Henson series that recasts the classic family sitcom with dinosaurs, and the first five season of the sitcom "Rules of Engagement" (2007-2011).
Browse more Instant offerings here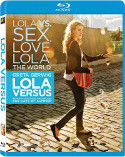 New On Demand
Available On Demand same day as disc is "Snow White & the Huntsman" (the extended version), plus the femme-centered comedies "What to Expect When You're Expecting" and "Lola Versus" and the dramas "Girl in Progress" and "For Greater Glory."
Arriving on September 13, in advance of its release on disc, is Todd Solondz's "Dark Horse" with Justin Bartha and Selma Blair and Lynn Shelton's "Your Sister's Sister" with Emily Blunt and Rosemarie DeWitt.
Debuting On Demand on Friday, September 14, same day as theaters, is the financial thriller "Arbitrage" with Richard Gere and Susan Sarandon. And currently On Demand, in advance of theatrical release, is "Frankie Go Boom," a comedy with Charlie Hunnam, Chris O'Dowd, and Lizzy Caplan.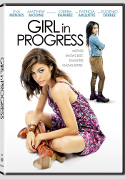 Available from Redbox this week:
Day and date with video stores: the ensemble comedy "What To Expect When You're Expecting" (Lionsgate), the mother-daughter drama "Girl in Progress" (Lionsgate), the Australian horror film "The Loved Ones" (Paramount), and "Cleanskin" (eOne).
Flashback releases in Redbox kiosks this week present "What's Eating Gilbert Grape" (Paramount), the 1993 drama with Johnny Depp and Leonardo DiCaprio, and "The Ghost and the Darkness" (Paramount), the 1996 thriller with Michael Douglas and Val Kilmer.