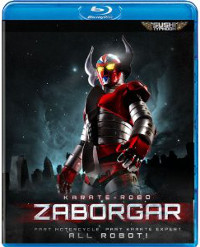 Karate-Robo Zaborgar (Well Go) is, in the words of the promotional poster, "Part motorcycle, part karate expert, all robot!" It doesn't lie. This self-conscious, tongue-in-cheek tribute to the robo-heroes of the seventies Japanese movies and TV embraces the gee-whiz innocence of the uncomplicated stories of transforming mechanical creations and the earnest young heroes who operate them.
Directed by Japanese B-movie specialist Noboru Iguchi (of "RoboGeisha" and "Mutant Girls Squad" fame) on a low budget, it features a young cop who inherits a transforming robot warrior built by his father from the DNA of his dead twin brother, a criminal organization of flamboyant and ridiculous henchmen, a robofemme fatale, and a twist of robot love that leaves our human hero abandoned and alone. There's clearly more love and affection than talent and cleverness here, and I can't imagine that anyone not already predisposed to this kind of cult filmmaking would find much of interest here (especially at almost two hours, where the good-natured riffing gets a little repetitive), but for fans of transforming robots and cheap genre exercises, it's a tongue-in-cheek valentine. Go, Zaborgar, go!
Blu-ray and DVD, in Japanese with English subtitles, with a collection of bonus short Zaborgar films.