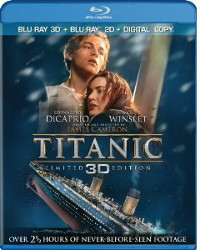 James Cameron's romantic epic, at the time the most expensive film ever made and the biggest moneymaker of all time, winner of a record-tying 11 Academy Awards (including Best Picture and Best Director), and the film that made Cameron the self-proclaimed "king of the world," makes its long-awaited Blu-ray debut in both Standard Blu-ray and Blu-ray 3D sets, both of them numbering four discs and both featuring two new, exclusive documentaries.
Cameron recreated with obsessive detail the look of the ship down the smallest detail and, based on exhaustive research, attempted to show just how and why the ship went down. In the fiction tale that runs through the real life disaster, Leonardo DiCaprio is the working class Irish lad who wins his passage in a poke game and Kate Winslet is the society beauty whose heart he wins, though her hand has been promised to a wealthy cad (Billy Zane). Kathy Bates plays Molly Brown, Bill Paxton is the diver in the present day sequence exploring the sunken hull, and Gloria Stuart is the old woman with a tale to tell about the fateful voyage.
The Blu-ray debut comes in two incarnations: the original standard 2D theatrical version, with a bonus DVD edition (the film spread across two discs) and a disc of supplements (on Blu-ray), and the 3D conversion that Cameron produced for the 2012 rerelease (spread across two discs), with a bonus 2D Blu-ray and the same disc of supplements.