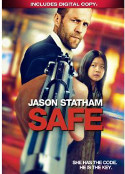 New Releases:
"Safe" (Lionsgate), the busiest action film of the year, stars Jason Statham as suicidal ex-cop who is roused from his misery to become a one-man army to save Chinese math prodigy (Catherine Chan) from warring mobs and corrupt cops. It may not be particularly smart, but it is dense, fleet, tight plotted, and a body count big enough to make a dent in the New York City census results. Blu-ray, DVD, digital download and On Demand, available at Redbox. Videodrone's review is here.
"The Five-Year Engagement" (Universal) is comedy from Nicholas Stoller and Jason Segal (the team behind "Forgetting Sarah Marshall") and starring Emily Blunt and Jason Segal as a couple whose happily ever after keeps getting delayed. Entertainment Weekly film critic Owen Gleiberman calls it "A lively, original, and scattershot-hilariou​​s ramble…" Blu-ray and DVD with both R-rated and unrated editions, and On Demand. Reviewed on Videodrone here.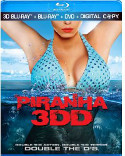 On the exploitation side of things is "Piranha 3DD" (Anchor Bay), a sequel to a remake that was released to theaters in 3D (on Blu-ray and DVD), the better to showcase the gratuitous nudity and blackly comic gore, and "High School" (Anchor Bay), a stoner comedy in the halls of lower learning (Blu-ray and DVD).
"My Sucky Teen Romance" (Dark Sky) is high school horror comedy notable for being written and directed by a 17-year-old (it's her third feature), on DVD.
And leading off the foreign film line-up this week is Chen Kaige's costume epic "Sacrifice" (Vivendi), with Ge You and Wang Xuegi. DVD only.
Browse the complete New Release Rack here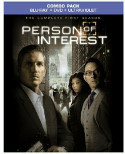 TV on Disc:
"Person of Interest: The Complete First Season" (Warner), one of the success stories of the 2011 TV season, is a clever melding of surveillance conspiracy, freelance good guys, and mystery puzzle, with Jim Caviezel as a burned-out CIA special operative and Michael Emerson as a computer genius who give him a purpose and rouses him back to action. Creator Jonathan Nolan co-wrote the "Dark Knight" movies and puts a bit of the Gotham City corruption into his vision of modern New York, where the rot goes right to the top of the NYPD. 23 episodes on Blu-ray and DVD, with supplements. Videodrone's review is here.
"Fringe: The Complete Fourth Season" (Warner) sends the cast of the brainy weird science fiction show of parallel universes and dimension-hopping villains into a whole new alternate reality where Walter (John Noble) is a little less stable and Peter (Joshua Jackson) never existed, until he pushes his way back in to reality. 22 episodes on Blu-ray and DVD, with supplements. Reviewed on Videodrone here.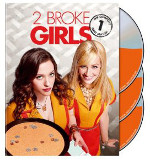 "2 Broke Girls: The Complete First Season" (Warner), a randy sitcom from Michael Patrick King ("Sex and the City") and Whitney Cummings ("Whitney), stars Kat Dennings and Beth Behrs as unlikely roommates and friends struggling to launch a cupcake business on a waitress salary. Blu-ray and DVD. Reviewed here.
"The Good Wife: The Third Season" (Paramount), the legal drama starring Julianna Margulies, continues to stir the political and personal through a season of challenges, including the election of her ex (Chris Noth) to the office of District Attorney and disbarment proceedings against her boss and one-time lover (Josh Charles). 22 episodes on six discs on DVD only.
"Holy Flying Circus" (Acorn) reimagines a piece of real-life Monty Python comedy history in a TV movie written as a sketch comedy (Blu-ray and DVD), and "Thriller Fan Favorites" (Image) presents ten classic episodes of the classic horror anthology, including the famous "Pigeons From Hell," on two discs, DVD only.
More new seasons: "Grey's Anatomy: Complete Eighth Season" (ABC), "Criminal Minds: Season Seven" (Paramount), "Parks and Recreation: Season Four" (Universal), "The Office: Season Eight" (Universal), "Bored to Death: The Complete Third Season" (HBO) and many more.
The MOD TV round-up looks at Gene Roddenberry's first TV series, "The Lieutenant" (Warner Archive) and other shows arriving on the manufacture-on-deman​​d service.
Flip through the TV on Disc Channel Guide here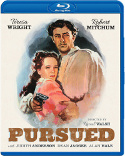 Cool and Classic:
"Pursued" (Olive), starring Robert Mitchum as a cowboy haunted by nightmares of his past and the hidden truth behind the death of his family, is considered the first film noir western, and for good reason. With its shadowy, ominous atmosphere and Freudian dreams and imagery, it's quite the evocative frontier melodrama of obsession and anxiety. Raoul Walsh directs and Teresa Wright, Dean Jagger, and Judith Anderson co-star. Blu-ray and DVD. Videodrone's review is here.
More traditionally noir are "Secret Beyond The Door" (Olive), a melodrama seeped in trauma and dark pasts directed by Fritz Lang and starring Joan Bennett and Michael Redgrave, and "The Dark Mirror" (Olive), a murder mystery directed by Robert Siodmak and starring Olivia De Havilland as twin sisters with very different personalities. Blu-ray and DVD.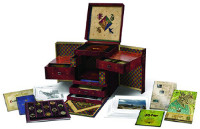 "Harry Potter Wizard's Collection" (Warner) is the definitive box set of the "Harry Potter" film series, a 31-disc collection that includes three editions of each film – on Blu-ray, DVD, and Ultraviolet – plus both 2D and 3D versions of "Harry Potter and the Deathly Hallows – Part 1" and "Part 2," hours of supplements. Videodrone's review is here.
"The Navigator" (Kino) is classic Buster Keaton set on the high seas, with Keaton as a rich rube adrift on a deserted luxury liner. Blu-ray and DVD.
Plus: Elaine May's sardonic romantic comedy "A New Leaf" (Olive) with Walter Matthau and the documentary "Screaming in High Heels" (Vicious Circle) with former B-movie scream queens Brinke Stevens, Michelle Bauer, and Linnea Quigley.
All of the Cool and Classic here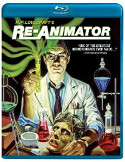 Blu-ray Debuts:
"Re-Animator" (Image), Stuart Gordon's cult horror classic from the gorey eighties, is a mix of metaphysics, medicine, zombies, and "Frankenstein" loosely adapted from H.P. Lovecraft's "Herbert West: Re-Animator." The Blu-ray is packed with supplements. Videodrone's review is here.
"Mad Monster Party" (Lionsgate), the 1967 stop motion TV special, is a monster movie spoof turned Halloween musical with for kids that has become cult classic for fans with a nostalgic streak. Reviewed on Videodrone here.
"Umberto D." (Criterion) is the landmark neo-realist drama directed by Vittorio de Sica from an original script by Cesare Zavatanni, the movement's godfather, and gets the HD upgrade in a special edition.
Plus: more horrors in "The Hand That Rocks the Cradle" (Hollywood), "Sleepwalkers" (Image), and the original 1980 "Mother's Day" (Anchor Bay).
Peruse all the new Blu-rays here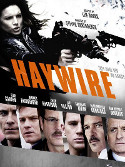 New on Netflix Instant:
"Haywire" (2011), Steven Soderbergh's version of a drive-in action movie, is lean, sleek, disciplined, and built around the impressive skill set of mixed martial arts champion Gina Carano.
Also among the notable New Releases arriving on Netflix Instant are "The Moth Diaries" (days after its DVD debut), the ultra-low-budget indie "Bellflower" (2011), and the acclaimed "Once Upon a Time in Anatolia" (2011) from Turkey.
"Insomnia" (2002), Christopher Nolan's 2002 remake of the icy, sun-bright 1997 Norwegian noir of the same name, is the rare remake that is arguably better than the original.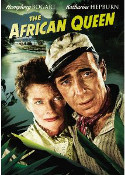 "The African Queen" (1951), the magnificent wartime adventure starring Humphrey Bogart and Katharine Hepburn as unlikely partners in heroism, is a classic journey adventure with an terrific, offbeat love story at the center.
In a darker vein are "Sunset Boulevard" (1950), the blackest of Hollywood's self portraits from Billy Wilder, and "The Night of the Hunter" (1955), one of the most beautiful pastoral nightmares the cinema has seen.
Instant TV includes "Cracker," the British mystery series with Robbie Coltrane and the American sitcom "Everybody Loves Raymond: Seasons 1-9."
Plus seventies classics ("Serpico," 1973), action hits ("Mission: Impossible," (1996), and adult-oriented animated comedies ("Team America: World Police," 2004).
Browse more Instant offerings here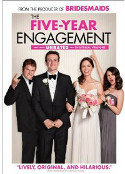 New On Demand:
"Safe" (Lionsgate), the busy action thriller with Jason Statham, and the comedy "The Five-Year Engagement" (Universal) with Emily Blunt and Jason Segal.
Arriving On Demand in advance of DVD is "Shut Up and Play the Hits," the LCD Soundsystem concert movie.
And on Friday, September 7, the satirical comedy "Butter" with Jennifer Garner and Hugh Jackman and the drama "Nobody Walks" with Olivia Thirlby and John Krasinski both debut On Demand in advance of theatrical release.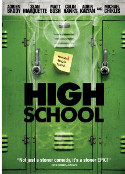 Available from Redbox this week:
Available day and date with video stores: "Safe" (Lionsgate) with Jason Statham, on Blu-ray and DVD, and the stoner comedy "High School" (Anchor Bay), on DVD only.
Also arriving in Redbox kiosks this week: The romantic drama "The Lucky One" (Warner) with Zac Effron and Taylor Schilling (Blu-ray and DVD) and the animated feature "The Lorax" (Universal).