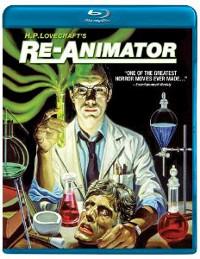 Re-Animator (Image), Stuart Gordon's cult horror classic from the gory eighties, is a mix of metaphysics, medicine, zombies, and "Frankenstein" loosely adapted from H.P. Lovecraft's "Herbert West: Re-Animator."
Bruce Abbot is ostensibly the hero, a nice-guy medical graduate student in love with the dean's daughter (the frequently naked Barbara Crampton), but Jeffrey Combs steals the film as Abbott's humorless roommate, medical rebel Herbert West. Brow furrowed in a state of perpetual intensity, West is perfecting the answer to life after death, but it's still a work in progress. His resurrected "patients" have a tendency to revive as brain damaged zombies, though his has no such luck when it comes to his arrogant nemesis, a scheming surgeon played by a cadaverous David Gale who doesn't let something as simple as losing his noggin stop his appetite for attention ("Who'd believe you, a talking head? Get a job in a side-show!").
Full of black humor and startling shocks, the feature film debut of experimental theater director Gordon is arguably his best, and easily his most fun (a kinky, sick sort of fun, mind you) and the unrated version has arguably the most inspired freaky sex scene ever suggested on film.
The Blu-ray is packed with all supplements of the previous two-disc special edition, toplined by the 70-minute documentary "Re-Animator Resurrectus," a lively and affectionate autopsy of "the film that wouldn't die" (to borrow a phrase from Combs) that offers a portrait of the creative madhouse of the set where no idea was too outrageous.