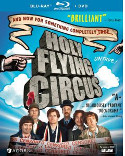 When Monty Python's Life of Brian opened in Britain, the controversy of its American premiere arrived right along with it, fanned into an even more hysterical protest that ended with the film being banned by individual community councils even after the government censors gave it a pass. In response, two members of the famously intellectual and provocative comedy group agreed to debate British comedian Malcolm Muggeridge and the Archbishop of York on a British talk show.
While that may not seem like a significant historical event, it is the premise of a new British TV movie produced in the manner of a Python comedy, complete with animated interludes, comic detours, caricatured personalities, and plenty of satirical asides. It's the film's strength and weakness. The script, written by Tony Roche (an Oscar nominee for the savagely funny "In the Loop"), uses the cheeky approach to explore the chemistry and conflicts within the comedy group, but it can't help but come across like a second-generation version of the troupe's original material. It finally plays it straight for the recreation of the debate, and what made the actual debate so notable was that the Pythons took the whole argument seriously, defending their work without resorting to ridicule or satire, while the opponents were flippant, bullying, and insincere: supposedly serious representatives of traditional values who revealed themselves as cynical showman playing for laughs.
It's an obscure piece of cultural history for most Americans but essential Python lore for fans, who will appreciation the energy and affection with which the cast of young actors impersonate the group, notably Darren Boyd as a contrarian John Cleese and Charles Edwards as Michael Palin as The Nicest Man in the World. Features deleted scenes, outtakes, and a brief featurette on the credits sequence.